UEFA Champions League resumes this wee and Chelsea FC is set to meet Beryern Munichen in Saturday 8th of August, 2020. Chelsea recently signed two forward players in Hakim Ziyech from Ajax and Timo Werner from RB Leipzig.
With three of Chelsea players sustained serious injuries on Sunday against Arsenal, many have been wondering if there is any chance Werner and Ziyech could take part in the match against Beryen.
Let's face the fact. The UEFA rule gives room for new three players to be registered with the teams but only players on the register list on the last deadline day will be allowed to be register.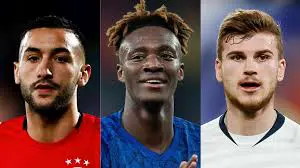 This simply means both Ziyech and Werner are not eligible to play against Beryern Munichen on Saturday unless things change between now and the day the match will be play.
Uefa have confirmed that five substitutions will be allowed in the Champions League and Europe League when the competitions resume.
Chelsea will have to manage with the available player at their disposal and nothing new is expected to happen. Pulisic and Pedro are out of the game due to the injuries they sustained on Sunday Against Arsenal which means these two attacking players will be out of the game leaving only Williams and Hodson-Odoi and the main wing players available to pick.
The Blues will have to convert some players like Mount and Ross Barkley to the wing when necessary.
With Williams future uncertain for now, he will still feature in the as he recently extend his contract till the end of the current season after the resumption from the Covid-19 break.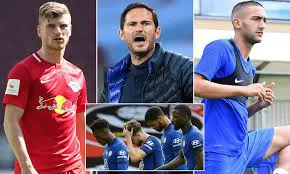 Chelsea defence is also in problem as the captain team sustained a serious injury on Sunday against Arsenal. So, Chelsea will have to manage the defenders available going to the match.
The Chelsea Match against Beryern will be play by 8PM CAT