J

oshua vs Usyk – LIVE!

Anthony Joshua faces what many are calling the most difficult test of his career to date at Tottenham Hotspur Stadium this evening.

The Briton puts his WBA, IBF, WBO, and IBO world heavyweight titles on the line against a fellow London 2012 gold medallist in front of an expected 67,000 raucous fans in N17.

Joshua must win to stay on track for those lucrative all-British unification showdowns against WBC champion Tyson Fury, who fights Deontay Wilder for a third time in Las Vegas in two weeks.

There was also plenty of action on tonight's undercard, including Lawrence Okolie providing an easy first defence of his WBO cruiserweight title against no1 contender Dilan Prasovic.

Callum Smith produced a huge knockout on his light-heavyweight debut against Lenin Castillo, who was taken to hospital, while Campbell Hatton was fortunate to escape with a win against Uruguay's Sonni Martinez in his fourth professional fight and first over six rounds.

Usyk speaks to Sky Sports via an interpreter: "This means a lot … the fight went exactly the way I expected it to go. There were a couple of moments when Anthony pushed me hard, but nothing special.

"I had no objective to knock him out [at the end] … I hit him hard, to try and knock him out, but my trainers said just stop and do your job."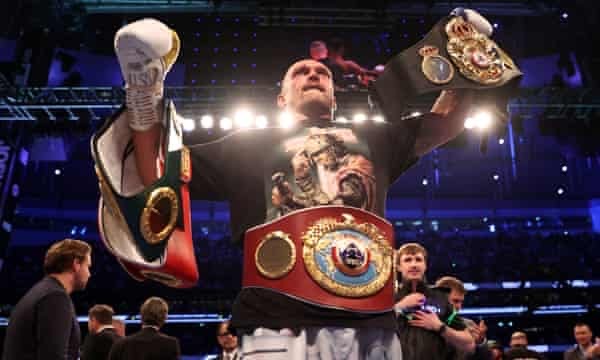 Oleksandr Usyk is the new heavyweight champion! Joshua is beaten!
It's a unanimous points decision for the Ukrainian:
117-112
116-112
115-113
It's a shocking night for him and his fans but Joshua can have no complaints. He was outboxed and outclassed. He started slowly, and grew into the fight, but what a display by Usyk, who kept coming forward and mixing up his angles of attack. Joshua was slower – clearly more powerful – and he did hurt Usyk at times. But the Ukrainian is now the new heavyweight champion. It's the second defeat of Anthony Joshua's career.
We await for the judges' decision. Joshua, who took some punishment in the final seconds, gave a wry smile at the end. Usyk went to the middle of the ring and dropped to his knees. Now Usyk goes to his corner and the two men embrace. What a remarkable fight from the Ukrainian – absolute class.
Round 12: Usyk, in the final round, continues to look bouncier, more mobile, while Joshua seems to know that he needs to try and unload a big shot or two and knock this man out to have any chance. But it's Usyk who keeps coming forward and forces the champion on to the back foot. Joshua ducks and dives as Usyk, who is such an awkward customer, keeps coming forward and keeps throwing shots. Joshua winds up a big right hand but misses. The two trade blows before the bell and Joshua is rocked! He is nearly knocked out! It's over … Joshua stayed up, but surely, he has lost his belts??
Round 11: Usyk comes flying out of the blocks, looking as if he fancies his chances of knocking out his heavier opponent. Joshua soaks up a few shots early in the round. Fatigue is clearly setting in for both men. But it's Usyk that is coming forward more and looking the more mobile. Joshua llooks tired. But they both are. This is a classy display by Usyk so far – and Joshua only has one more round to put it right. If Usyk stays on his feet, surely, we have a new champion
Round 10: A cut has appeared on the right side of Usyk's face. Both fighters have taken some punishment. Usyk winds up a massive left hand but misses by miles. Now Joshua's right eye is swelling up. This, it must be said, isn't looking great for Joshua right now. Can he find the knockout? Can he out-point his opponent and take the next two rounds and give himself a chance of a decision? His corner men repeatedly tell him to relax … he is rattled but he is ready to go for the penultimate round.
Round 9: A slightly quieter round overall but it was probably Usyk that edged it, coming forward a bit more … although in the final 30 seconds Joshua also lands a couple of decents shots of his own so perhaps it's one that's too close to call. Joshua this time nods at the end of the round in recognition of this very difficult fight that he's being subjected to. However, he has more control now than the first three-four rounds when Usyk was clearly on top. It's more even now. Three rounds for Joshua to knock Usyk out, and not have to go to the judges' cards.
Round 8: Joshua comes forward early and half-lands with a big right hook. He keeps coming forward and lands another punishing right, mixing things up and using his jab well. Usyk throws a big haymaker with his right hand that Joshua sways out of the way of. Joshua looks livelier now and his tempo is better. But is he losing on points? It is close, at the every least. He gestures to Usyk to come forward, as if Joshua wants a tear-up in these later rounds. Perhaps that is the obvious option at this stage … this fight is very, very much up for grabs and Joshua needs to get busy.
Round 7: Joshua looks more settled and more confident at the start of the round. Usyk's tempo has dropped. Joshua comes forward and cracks a body shot with his left. The British fighter comes forward but Usyk lands a big left on the counter. Another big left and Joshua stumbles back with the force of the shot. Joshua is rocked! He's in trouble! But he gathers himself well and buys a few seconds to recover. However, after Joshua appeared to be starting to really grow into the fight, Usyk hass roared back into it. At the end of the round there is almost a jokey exchange after the bell when Joshua shapes to throw a punch but stops. There is a lot of respect between the two fighters.
Round 6: It's been a really clean, highly technical fight so far. The referee has hardly been involved at all. The two fighters are keeping their distance and looking to score with very targeted attacks. Now the crowd roars when Joshua lands another sweet shot on the Ukrainian. Suddenly there is a sense that Usyk is running away a little bit as Joshua moves forward and looks to land another big shot. One of the Sky pundits has Usyk winning four rounds to Joshua's two so far …
Round 5: Usyk lands with a body shot but Joshua soaks it up well. If Joshua thought coming in a bit lighter would help him match his opponent for speed and mobility, then it hasn't worked. However, Joshua then lands a very solid right-hand body shot of his own, before winding up a big right hook that misses by a long way. But Joshua lands with another big shot at the end of the round, and Usyk nods his head again, acknowledging his opponent's power. That was better from Joshua towards the end of the round. Is his power going to start to tell after a very bright start for Usyk?
Round 4: Joshua slips and stumbles across the ring at the start of the round, but regains his balance and all is well. But again, the challenger is the more mobile fighter and continues to come forward. There is a little more cageyness in this round. "Joshua's just got to be patient here," observes the co-commentator. "Are you sure?" replies Adam Smith, the lead commentator. If the fight carries on like this and there isn't a knockout, surely the decision will go to Usyk?
Round 3: Usyk comes forward again and lands with more scoring shots. Joshua looks a bit concerned, as if he knows he's being outboxed at this early stage. The positive is that Usyk, so far, doesn't appear to have the type of power that is going to knock Joshua out … and as I say that the Ukrainian lands with a big shot that seriously rocks Joshua. Joshua regroups, and lands a right hand of his own. When the bell goes, Usyk nods his approval before going to his corner.
Round 2: Usyk, it is clear, is an awkward customer who is staying on his toes and generally keeping out of Joshua's reach. But Joshua finds a way through with a good right hand early in the round. Usyk again looks lighter on his feet, and lands with another good left hand as the round goes on. Joshua is noticeably not as quick as his opponent, but then again, he may only need to land one or two big shots to win this. Usyk is surely ahead on points right now.
Round 1: A positive start from Usyk who lands a couple of good left-hand shots, including one excellent punch that rocks Joshua's head back. Usyk looks to come forward earlier in the round and is clearly looking to stay mobile while coming forward when he can. Joshua is a bit more watchful, appearing to wait for his moment, and is perhaps not moving as fluently ass his opponent. The bell goes at the end of the round and the fighters touch gloves. That was the challenger's round.
Here we go. The robes are off. This is happening!
Here we go. Usyk is striding out to the ring in a hooded white jacket, wearing white gloves and white shorts, and with a Daft Punk-style metallic mask entirely covering his face. He's surrounded by four or five security heavies. There are bursts of flame as part of the pyrotechnics show. As he gets closer to the ring the mask comes off. He gets into the ring and touches the Ukrainian flag, and then crouches down in one of the corners, apparently saying a prayer