Brighton 1-3 Chelsea Barney Ronay has filed from the Amex Stadium, so I'll leave you with his report. Goodnight!
Full time: Brighton 1-3 Chelsea
Peep peep! A solid start for Chelsea, even if the scoreline flatters them. Timo Werner looked sharp – he's a velocista if ever I've seen one – and won the penalty that led to the opening goal from Jorginho. Leandro Trossard's second-half equaliser, which Kepa might have saved, was followed almost instantly by a screamer from Reece James. After Lewis Dunk missed a sitter, Kurt Zouma's deflected volley settled the match. Brighton deserved more, but who said life was fair.
90+1 min Four minutes of added time.
90 min Kante's chipped cross is cleared inside the six-yard box by Dunk, who takes a hit from Mount in the process.
89 min The match is petering out. Brighton were the better team for 66 minutes but the third goal broke them.
88 min "It seems a good season to be a James," says Ian Copestake. "Not that I am bitter but I seem to recall a season that was a calamity for one so-named."
87 min Azpilicueta has gone to right-back with James moving into midfield.
85 min "Something I feel I've noticed in Chelsea games is that the team will often end up passing the ball all the way back to the defenders, and from there to Kepa, who ends up spanking it forwards," says Ed Wall. "This seems to happen frequently, and not just from normal buildup but with the team in decent positions high up the pitch. The players' body shapes when receiving the ball even seem to be angling that way – as though going backwards is the first thought. They seem very risk averse. Do you think this is a sign of something of a lack of confidence, or is it a lack of coaching? It always seems to be inviting a certain amount of pressure. Reece James, for example (screamer aside) seems to be a prime culprit, which is bizarre when his crossing is so excellent."
I can't say I'd noticed that but it's an interesting point, especially about the body shape. I'll keep an eye out when I watch the match again tomorrow morning.
84 min There's a break in play while Jorginho receives treatment. Cesar Azpilicueta is going to replace him, though it only looks like a precaution.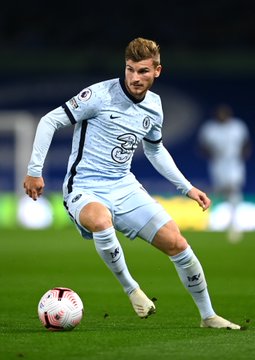 81 min Lamptey is booked for fouling Barkley.
80 min Connolly's long-range shot is comfortably held by Kepa.
80 min And now a change for Chelsea: Callum Hudson-Odoi replaces Kai Havertz, who made a subdued debut.
79 min A double change for Brighton: Pascal Gross and Ali Jahanbakhsh replace Alzate and the limping White.
77 min A deft touch from Havertz releases Kante and starts a Chelsea break. Barkley takes over, running 40 yards before slipping in Werner on the right side of the area. His shot is well blocked by the sliding White.
76 min March beats Havertz too easily this time and stands up a deep cross that is headed away by Alonso.
74 min Havertz diligently tracks March all the way back into his own area to make an important tackle.
74 min "Bournemouth were also a good side with a good coach and went down," says Ian Copestake. "A common denominator is these are teams who buy players from Liverpool."
Erm, what about Barcel- oh.
73 min For the first time in the game, Chelsea are comfortable. In fact they have a bit of a strut on.
72 min "One thing I would say about that Trossard goal Rob, and this is not to defend Kepa particularly, but that new Nike ball is really difficult," says Martin Gamage. "My 15 yo son has played two games with it and it made him look like a chump both times. It can spit at the keeper when it bounces or it can fly unpredictably. He conceded one exactly like Kepa which seemed to 'die' in flight and slide under his gloves. Kepa won't be the last to look stupid using it."
That's interesting and would explain it. It's quite unusual to see a keeper dive over the ball like that.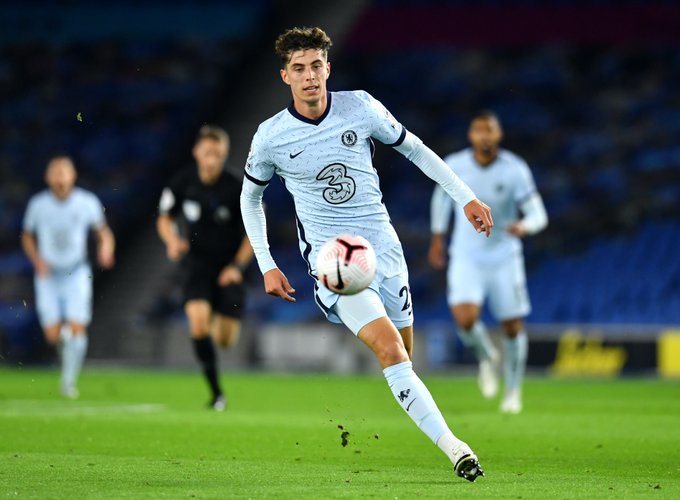 71 min Trossard hits a dangerous cross towards Maupay that is very well defended by Christensen.
68 min "I saw a lot of people slotting Brighton for relegation in previews," says Brad Wilson. "I didn't think that sounded right, and on today's evidence they look like a solid mid-table team. If Dunk had somehow not missed …"
Yeah they're a good, likeable side, very well coached. They need more penetration but I'd be pretty surprised if they went down.
Updated 
GOAL! Brighton 1-3 Chelsea (Zouma 66)
And now Chelsea lead by two! James's outswinging corner was volleyed optimistically towards goal by Zouma, 15 yards out, and the ball took a big deflection off Webster to wrongfoot Mat Ryan.
66 min James wins a corner off March. This is Chelsea's best spell of the match.
64 min Havertz finds the overlapping James, who crosses low towards Werner at the near post. His imaginative flick behind the standing leg is blocked.
63 min We haven't seen Trossard's goal again. It did dip awkwardly in front of Kepa, but it was still a surprise when it ended up in the net.
61 min A Chelsea substitution: Ross Barkley replaces the disappointing Ruben Loftus-Cheek.
59 min: What a chance for Dunk! I don't know how he has missed that. He was still forward from a free-kick when Trossard curled over a superb cross from the right. Dunk was unmarked at the far post, six yards out, but he tried to be too precise and headed wide.
58 min It's very harsh on Brighton but that really was a magnificent goal.
Reece James restores Chelsea's lead with a storming goal! Jorginho played a square pass to him, 30 yards from goal. James's first touch into space was excellent: it moved the ball away from Alzate and gave him the room to run on and spank a spectacular drive into the top corner.
WHAT A GOAL by James! Absolute beauty. #BHACHE
pic.twitter.com/V0KB4Eu8HZ

— FTTV World (@FTTV10) September 14, 2020
GOAL! Brighton 1-2 Chelsea (James 56)
Pick that out!
The goal came after a very patient build-up. Eventually Lamptey pushed the ball back to Trossard, who swished a left-footed drive from 22 yards that sneaked into the bottom corner at the far post. That looked like an error from Kepa, who seemed to dive over the ball, though I'd like to see it again.
GOAL! Brighton 1-1 Chelsea (Trossard 55)
A deserved equaliser for Brighton!
GOOOOAL, the equalizer 😍🚀

Kepa as always !🙃

The match is live on 🔥👇🏻https://t.co/KxfF8Dcm0J#BHACHE

— SnapGoal (@SnapGoal) September 14, 2020
53 min Havertz flicks a simple pass towards Zouma. Throw-in to Brighton. That sums up his night.
52 min It's all Brighton at the moment. Chelsea's attacking-midfield trio of Mount, Loftus-Cheek and Havertz have done nothing so far.
49 min: A fantastic run from Lamptey almost brings an equaliser! He charged infield from the right, zig-zagged between Alonso and Mount at the corner of the area and smashed a shot that deflected behind off Zouma. Having beaten the two men on the edge of the area he should probably have picked out the unmarked Connolly, but you can understand the appeal of trying to score against his old club. He is such an exciting player.
48 min This is a really good start from Brighton. Alzate slides a nice pass into the area for Connolly, who takes it in his stride and hits a shot that is well blocked by James.
47 min March swaggers down the left and hits a very sharp cross to the near post. Connolly gets away from Christensen – too easily, truth be telt – but the cross is so fast that he can't sort his body out in time. It hits his chest and goes behind.
Okay, I'll make an exception for this email
"Just wait until some boffin comes up with an Expected Net Spend metric," says Matt Dony. "'Club Y only bought a reserve right winger, but their xNS was considerably higher because of their charismatic coach and attractive training facilities.' I can almost see the spreadsheets now."
Almost? I reckon you can actually see the spreadsheets. I put it to you, Mr Dony, that YOU ARE THE BOFFIN.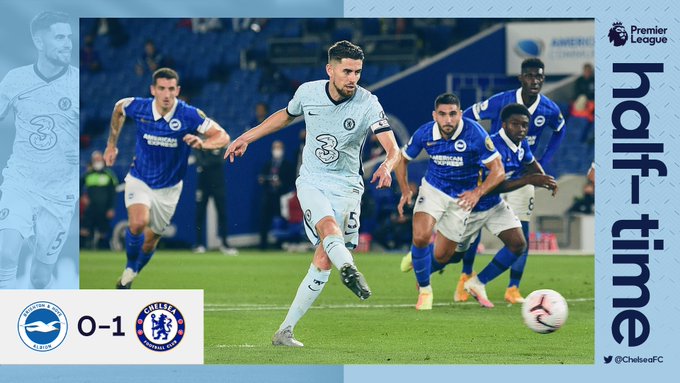 Net spend (the end) "Has Mr Radcliffe failed to notice that Chelsea have spent nothing the last two transfer windows, have sold their (arguably) best player in Hazard, plus Morata, and might have a few quid rattling around the piggybank?" asks Julian Menz.
And with that, no mas. We'll just end up calling each other bad words.
Brighton & Hove Albion vs Chelsea ALL GOALS #BHACHE
pic.twitter.com/0RHyuBkpUH

— FTTV World (@FTTV10) September 14, 2020
FULL HIGHLIGHTS
Related