The drama of the 2020 United state of America presidential election between the Democrats and the Republican is still ongoing, as the Republican presidential candidate, Donald Trump still claim that the election result was a "fraud".
We could remember that after meeting the criteria set up by the Electoral college, the Democrat Presidential candidate, JoeBiden was declared the winner of the 2020 US Election by the media. He is set to be sworn in as the 46th president of the United State of America alongside his Vice, Kamala Harris, who is set to become the first Black and first Asia to become the Vice president of the United States of America.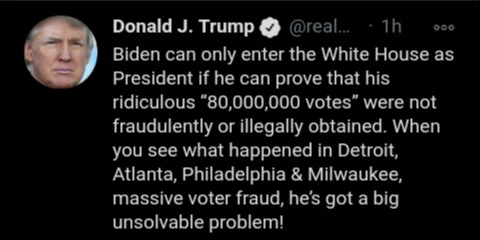 The Republican Presidential candidate, Donald Trump has already vowed to not to agree on the result of the election and also vowed to go to supreme court to challenge it.
According to what Donald Trump on the 27th of November, he stated that Joe Biden can only enter the White House as President if he can prove that his 80 million votes of the election is legal
What Is Your Opinion On This?
Do You Think Donald Trump Can Win The Case