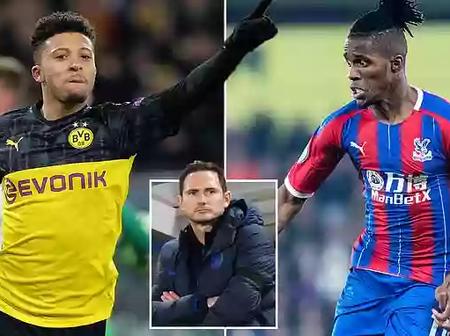 Chelsea lost at home again to Southampton making it the third time in 6 games. Losing to a team that is struggling within the relegation zone.
Frank Lampard in Jan will try all his possible best to make Chelsea sign player like Jadon Sancho, Ake, Timo, zahal, isco, eze. Since the transfer ban has been lifted. However, there are two key issues is negotiation and board approval.
Even though Lampard can finally bring in his own players in January, there are obstacles from board and player interest.
Lampard have been linked with several wingers after he was announced as the coach of Chelsea FC but with this recent performance, it is quite obvious that the only solution is to sign player with qualities in order to remain in the game.
Players lampard have in mind and the obstacles
Jadon Sancho of Dortmund has been highlighted as one of the main target but Dortmund are saying they will not allow him to sign for any club until the end of the season
Other club might also show interest which is another issue which will come up. waiting to make a quick move with huge price for the former Manchester City youngster.
Real Madrid, Barca and Manchester United are among the giants watching over Sancho transfer in case of any news.
Zaha
Chelsea will try and sign Crystal Palace's Wilfried Zaha in January but criticism has come that Lampard is not suppose to be looking at signing the ex-Manchester United flop who now play for crystal palace.
Also news coming out have it that zaha signing is not sure again, which might come as a result of board decision, coach decision or price or that Chelsea have players that can fit in better than zaha in wide positions like Hudson-Odoi, [Christian] Pulisic and willian. they can also play Mason Mount from the side. Zaha will block all this young players from shining if they sign him.
The issue is even though many want zaha, zaha will block a lot of players in his position who can also play like him or even better. They won't sign him.
On boxing Day, Lampard couldn't do anything as his side suffered an embarrassing 2-0 home defeat to relegation-threatened Southampton. This has shown how seriously they are in need of some quality players not just any player.
Timo Werner
Chelsea last run of the year 2019 is nothing to write home about. Even though they defeated Tottenham and qualified for uefa rounds, they have Lost against small or struggling teams like Bournemouth, westham, Southampton in the last two months of the year. This is a frustrating performance by the blues and it's all happened at Chelsea home.
All this result serves as a reminder that Lampard must look for a way to adjust the situation in the January transfer window or Chelsea won't be among the top 4.
Chelsea have made a move though not officially announce yet to sign Timo Werner and create a competition for Tammy Abrhahm when the January transfer window opens.
Werner scored 18 goals in 17 matches for Red Bull Leipzig this season and the German international is wanted by a host of clubs across Europe which is the obstacles behind his signing.
Big money move which will involve many giant clubs and this might make Chelsea not to sign him.
The transfer list also includes Chelsea, who are set to trigger his release clause, currently priced at £30m
Werner is set to create a genuine competition for Abraham when he comes in as the club's number nine, which could also pave the way for Olivier Giroud to leave.
Lampard in the conference room has spoken about the need to replace Eden Hazard's goals and creativity ahead of the transfer window and this can only be done by bringing in players of his qualities.
One man who has been recognised for this kind of playing ability is Real Madrid playmaker Isco and the report have it that he has been heavily linked with a move to Stamford Bridge.
The Spaniard is not longer having a regular game at the Bernabeu since the return of Zinedine Zidane and looks set to move away from the club. Chelsea is a big club that will surely accommodate him but news already coming out about arsenal being it's favourite and also that Isco has ruled out Chelsea move and will prefer to join Manchester City, with David Silva leaving Pep Guardiola's side at the end of the season.
Other transfer news:
Chelsea have set their sights on bringing Julian Draxler and Idrissa Gueye to the club in January.
Draxler would add some much-needed creativity to the Blues midfield and could be swayed to move to London for more regular playing time.
Despite Gueye star only joining PSG in the summer from Everton, he is also a transfer target for Lampard, also Nathaniel Ake from Bournemouth, eze from QPR, chiwell from Leicester.
All this and more players are of the interest of Lampard and Chelsea but they are of high quality and it's all going to be competitive for them in the transfer market.