Over 1,000 Russian Soldiers Killed So Far, Says Ukraine
Ukraine's Defence Ministry said on Friday that over 1,000 Russian soldiers had been killed so far since the ongoing conflict started.
"Russia has not suffered so many casualties during the fighting in any of its armed conflicts since its inception," the ministry said.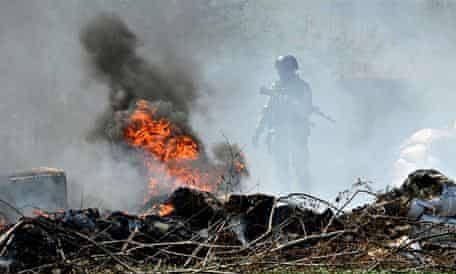 Photo Credit: Google
President Putin ready to negotiate
The Russian President, Vladimir Putin has expressed his readiness to negotiate with his Ukrainian counterpart, Volodymyr Zelenskyy.
Putin said he is ready to send Russian delegations to the Belarusian capital of Minsk to talk with Ukraine.
The Cable News Network reported that Putin's decision follows a request made by Zelenskyy.
A statement by Kremlin spokesman, Dmitry Peskov, said: "Following Zelensky's proposal to discuss the neutral status of Ukraine, Putin can send representatives of the Ministry of Defence, the Foreign Ministry and his administration to negotiations with the Ukrainian delegation."
The statement said Minsk was chosen as the venue for the proposed talk.
FG urges Russia to revert to status quo
The Federal Government, yesterday, summoned the Ambassadors of Russia and Ukraine to Nigeria, Alexei Shebarshin and Kirdoda Valerii respectively over the deteriorating Russia-Ukraine crisis.
The Minister of Foreign Affairs, Geoffrey Onyeama, who met with the envoys separately behind closed doors, disclosed that during his meeting with the Russian envoy, he told Shebarshin that the Government of Nigeria could not condone as a country, the violation of the territorial integrity of a United Nations member state, a country with which Nigeria has diplomatic relations.
Onyeama also told Shebarshin that Nigeria urged Russia to revert to the status quo before the military action and to prioritise diplomacy and dialogue.
Buhari Signs Electoral Bill 2022 Into Law
President Muhammadu Buhari at exactly 12:27pm, on Friday, assented to the long-awaited Electoral Act (Amendment) Bill 2022, into law after weeks of uncertainty on the fate of the new legal framework for Nigeria's electoral system.
The ceremony was witnessed by the Senate President, Ahmed Lawan, and Speaker of the House of Representatives, Femi Gbajabiamila.
The Senior Special Assistant to the President on National Assembly Matters (Senate), Senator Babajide Omoworare, tabled the document for signing.
President Buhari urged the National Assembly to give speedy attention to further amendments suggested.