Big Brother Naija, BBNaija housemate, Kiddwaya says he would encourage Laycon to keep his head up and be positive about himself if evicted during the Sunday night show.
Kiddwaya made the disclosure during his diary session with big brother on Sunday.
Kiddwaya said: "Keep your head up, we will meet on the outside, keep being yourself and act positively.
"We will meet on the outside but enjoy yourself
"I'm proud of your music, your story and be proud of yourself because you've achieved it already
The Big Brother Naija Season 5 has never been short of entertainment as the Lockdown housemates keep giving it to us hot even when we are least expecting it. Kiddwaya is obviously on a possible eviction tonight after being nominated by fellow housemates. However hours before the eviction would come up, Kiddwaya gave a surprise revelation of how he loves and admire Laycon so much.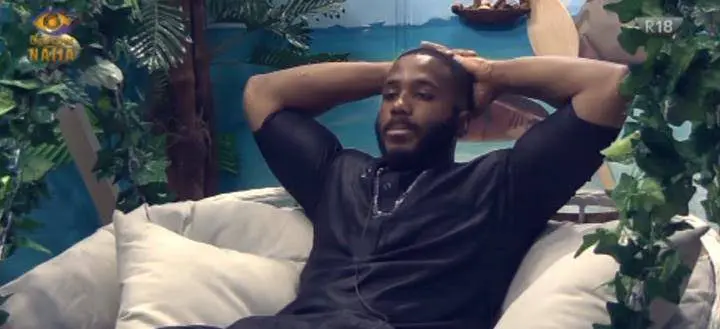 Despite the love triangle the duo found themselves, they haven't stop loving each other. When Kiddwaya was in the diary room today, Biggie asked who will he wish goodbye if he gets evicted today and what would he say? Kiddwaya said he would wish Laycon an emotional goodbye. Here's the full conversation
Biggie: Kiddwaya If you get evicted tonight, who would you wish goodbye if you have only one person to tell
Kiddwaya: Of course, it will be Laycon. I like his vibe, he's talented and we've got along so well. I'll definitely tell him because he's my guy and we are surely going to hook up outside the house.
Biggie: What will you tell him?
Kiddwaya: I'll tell him to keep his head up. To keep giving, and continue displaying his talents.
Kiddwaya's response to Big brother's question melt viewers heart as they appreciated Kiddwaya's love for Laycon. He truly loves Laycon and would want to be his friend. He has on many times discuss his cordial relationship even with Laycon himself.
He once said he won't allow any girl come in between him and Laycon after the whole Erica saga. He was also seen sometimes ago consoling Laycon when he was depressed after being nominated for eviction two weeks ago.
I hope Kiddwaya gets to remain in the house tonight. And if Evicted, I pray there friendship continues outside. I'm sure even Erica will make up with the duo and they will all be fine together. Definitely, Laycon is a sin of Grace. Even housemates keep falling in love with him.