Black Panther is a 2018 American superhero film based on the Marvel Comics character of the same name, directed by Ryan Coogler , who co-wrote the screenplay with Joe Robert Cole, produced by Marvel Studios and distributed by Walt Disney Studios Motion Pictures. The film tells the story of T'Challa who returns home to the African nation of Wakanda, after the death of his father, to take his rightful place as king. When a powerful enemy suddenly reappears, T'Challa's mettle as king — and as Black Panther — gets tested when he's drawn into a conflict that puts the fate of Wakanda and the entire world at risk. Faced with treachery and danger, the young king must rally his allies and release the full power of Black Panther to defeat his foes and secure the safety of his people.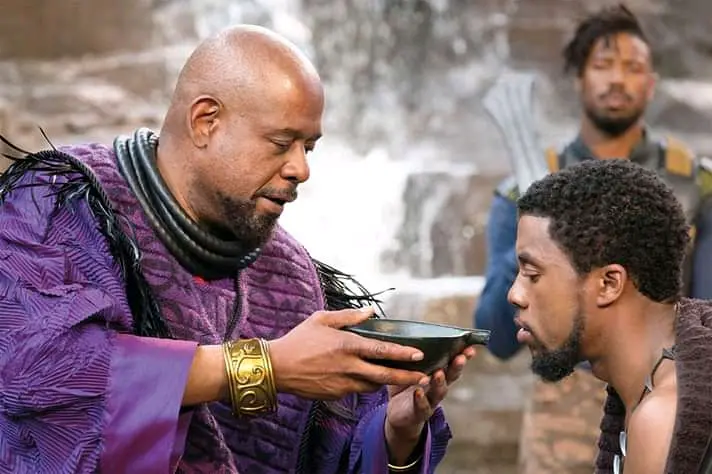 The film stars Chadwick Boseman, Michael B. Jordan, Lupita Nyong'o, Danai Gurira , Martin Freeman , Daniel Kaluuya ,Letitia Wright, Winston Duke , Angela Bassett, Forest Whitaker , and Andy Serkis, etc.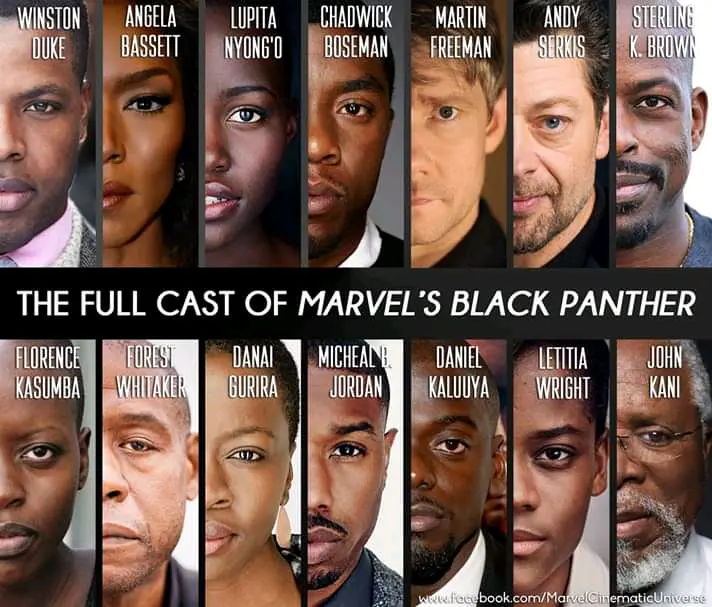 Out of the actors who star in the movie, here are 5 of them who are Africans.
#1. Daniel Kaluuya, Uganda
Daniel Kaluuya, born 24 February 1989, is a British male actor and writer. Kaluuya began his career as a teenager in improvisational theatre. He subsequently appeared in the first two seasons of the British television series Skins , in which he co-wrote some of the episodes. Playing the lead role in Sucker Punch at the Royal Court Theatre in London, Kaluuya won rave reviews for his performance and he won both the Evening Standard Award and Critics' Circle Theatre Award for Outstanding Newcomer.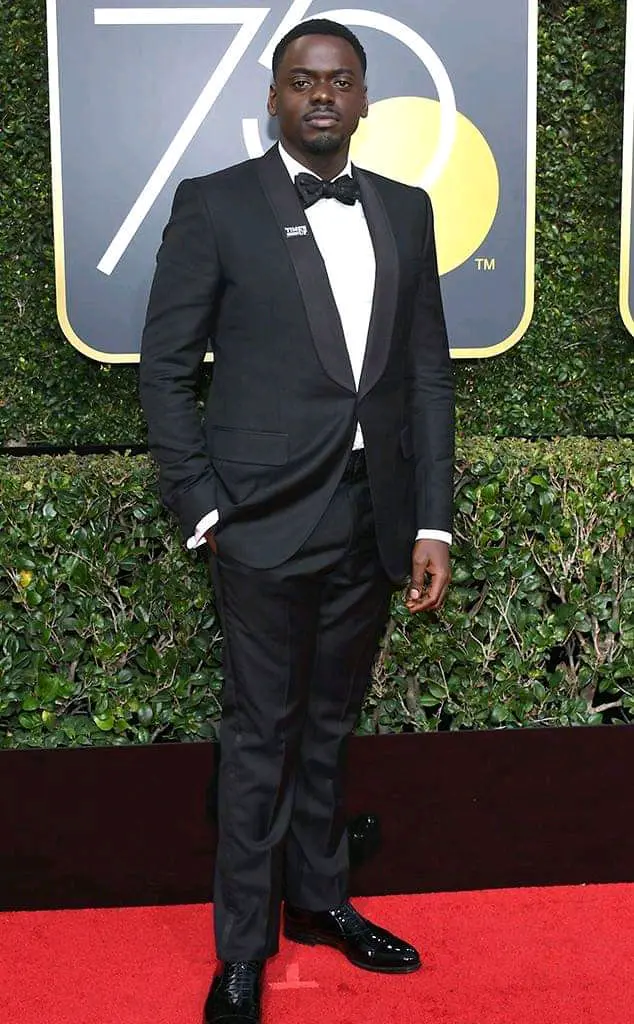 He gained further acclaim for his performance as Bingham "Bing" Madsen in the Black Mirror episode "Fifteen Million Merits". He then played Michael "Tealeaf" Fry in the BBC dark comedy series Psychoville and Michael "Mac" Armstrong in the BBC Three horror drama series The Fades. Kaluuya appeared as Agent Colin Tucker in the 2011 film Johnny English Reborn and portrayed Black Death in the 2013 film Kick-Ass 2 . In 2015, he had a supporting role in Denis Villeneuve 's film Sicario . In 2018, he portrayed W'Kabi in Ryan Coogler 's blockbuster film Black Panther.
After then, he appeared in Steve McQueen 's heist film Widows.
He has been nominated for the Academy Award, Golden Globe Award, Screen Actors Guild Award, and BAFTA Award for Best Actor for his leading role as Chris Washington in the 2017 horror film Get Out. In 2018, he won the BAFTA Rising Star Award.
In December 2016, Kaluuya was cast in the Marvel Cinematic Universe film Black Panther. The film was released on 16 February 2018, in the United States.
Kaluuya was born in London , to Ugandan parents of African origin. His mother, Damalie, raised him on a council estate in Kentish Town, along with an older sister. His father lived in Uganda, and rarely visited due to UK visa regulations. Kaluuya attended St Aloysius College, London. He lives in West London .Kaluuya is an ardent supporter of Arsenal F.C. , to the extent of referring to Arsenal's North London rivals, Tottenham Hotspur F.C. , as the "team who must not be named" and the " Voldemort of the League".
He was awarded 2019 Screen Actors Guild Awards for Outstanding Performance by a Cast in a Motion Picture for his superb performance in Black Panther movie.
#2. Danai Gurira, Zimbabwe
Danai Jekesai Gurira, born February 14, 1978, is an American female actor and playwright. In 2018, she played Okoye in the Marvel Cinematic Universe superhero films Black Panther.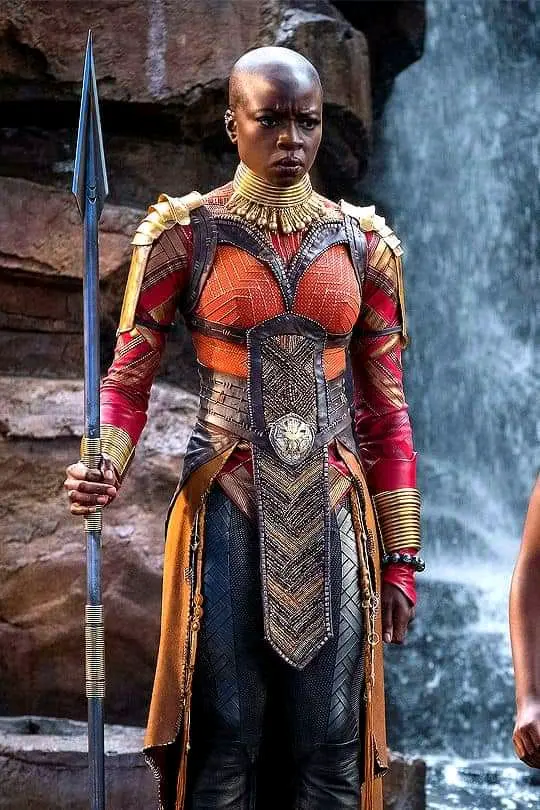 Apart from Black Panther, she is also known for her starring roles as Michonne on the AMC horror drama series The Walking Dead (2012–2020) and Avengers: Infinity War (2018), and Avengers: Endgame (2019).
Gurira is also the playwright of the Broadway play Eclipsed , for which she was nominated for a Tony Award for Best Play.
Gurira was born in Grinnell, Iowa , to Josephine Gurira, a college librarian, and Roger Gurira, a lecturer in the Department of Chemistry at Grinnell College (both parents later joined the staff of University of Wisconsin–Platteville ). Her parents moved from Southern Rhodesia , which is now Zimbabwe, to the United States in 1964. She is the youngest of four siblings; Shingai and Choni are her sisters and Tare, her brother, is a chiropractor . Gurira lived in Grinnell until December 1983, when at age five she and her family moved back to Harare , the capital of Zimbabwe, after the country gained independence.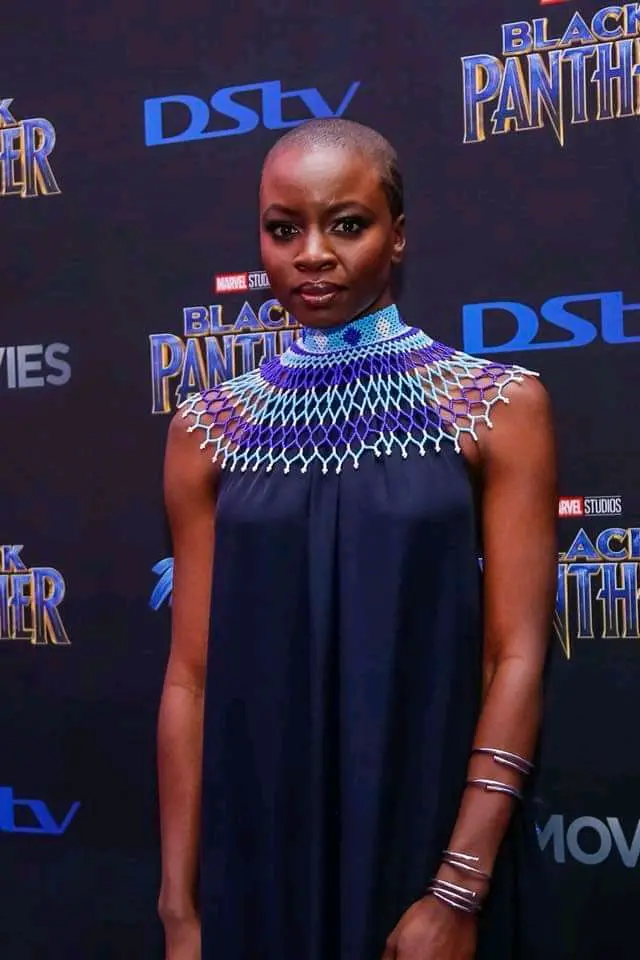 She attended high school at Dominican Convent High School . Afterward, she returned to the United States to study at Macalester College in Saint Paul, Minnesota , graduating with a Bachelor of Arts in psychology. Gurira also earned a Master of Fine Arts in acting from New York University's Tisch School of the Arts.
For her excellent role in Black Panther movie, she was was awarded Saturn Awards for Best Supporting Actress (2017), MTV Movie Awards for Best On-Screen Team (2018), People's Choice Awards for The Action Movie Star of 2018, Black Reel Award for Outstanding Supporting Actress (2018), Screen Actors Guild Awards for Outstanding Performance by a Cast in a Motion Picture (2019), and nominated for 2018 MTV Movie Awards for Best On-Screen Team Black Panther.
#3. Lupita Nyong'o, Kenya
Lupita Nyong'o is an international filmmaker and female actor known for her Academy Award-winning role as Patsey in '12 Years a Slave' and as Nakia in 'Black Panther.'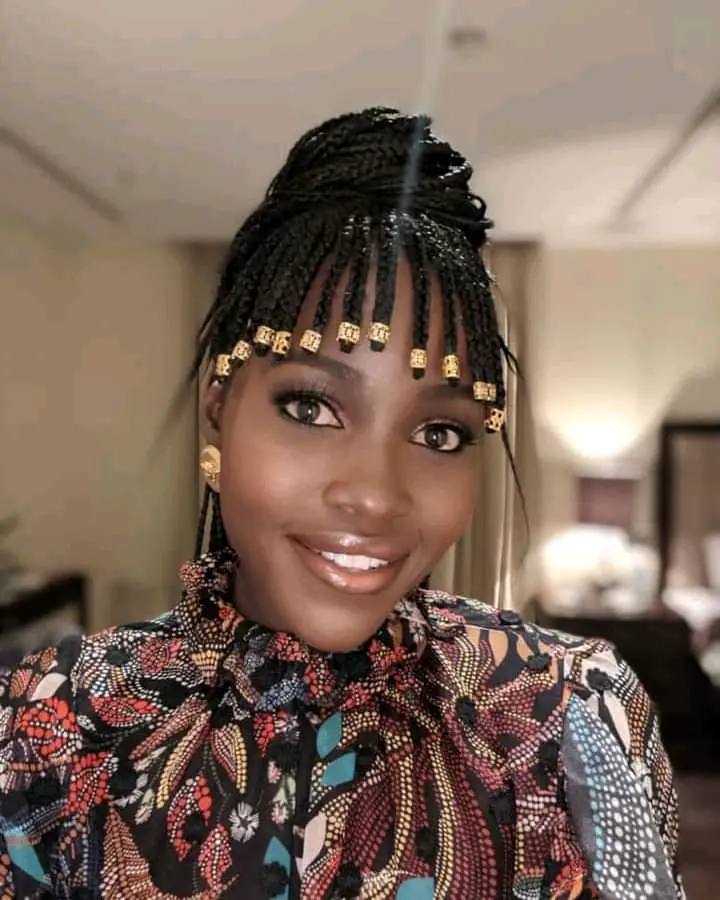 Born in 1983 in Mexico City, Mexico, Lupita Nyong'o started acting as a teen in Kenya and went on to work behind the scenes of the film The Constant Gardener. She directed and produced the albinism documentary In My Genes and starred in the TV series Shuga. Nyong'o went on to earn acclaim for her role as Patsey in 12 Years a Slave (2013), for which she won the 2014 Academy Award for Best Supporting Actress. The following year, she starred in Star Wars: The Force Awakens and the Off-Broadway play Eclipsed. The actress also featured prominently in the box office-shattering superhero flick Black Panther (2018).
Lupita Nyong'o was born in 1983 in Mexico City, Mexico. Her parents, Dorothy and Peter Anyang' Nyong'o, were in political exile at the time of her birth, but were able to return to their homeland of Kenya during their daughter's childhood. Her father later became part of the country's senate while her mother, who worked in family planning, took a leadership position with the Africa Cancer Foundation.
Having taken to drama and obtaining the lead role in a production of Romeo and Juliet, Nyong'o also returned to Mexico during her teens to learn Spanish. She went to college in the United States, studying at Hampshire College in Amherst, Massachusetts, and earning her degree in film in 2003. Upon her return to Kenya during school summer vacation, Nyong'o discovered that filming for the drama The Constant Gardener was happening in her area. She joined the set as a production assistant and met Ralph Fiennes, who told her to become an actor only if it was something she couldn't imagine doing without.
Nyong'o honed her craft as a filmmaker by directing, editing and producing the 2009 documentary In My Genes, which followed the stories of several Kenyans who are living with albinism. And she became a star of Kenyan television in Shuga, an MTV/UNICEF-backed series that looked at sexual relationships among youth in Nairobi, aiming to promote HIV awareness and safe sex via storytelling.
Nyong'o has become a majestic fashion icon, with red-carpet appearances and pics in publications like InStyle and W. She also twice graced the cover of Vogue in a short span of time, appearing on the publication's July 2014 and October 2015 issues.
However, Nyong'o's appearance on the November 2017 issue of Grazia U.K. fueled controversy, after the actress slammed the magazine for retouching the photo to chop off her ponytail and smooth out her hair. The magazine subsequently apologized for the editorial mishap, with photographer An Le taking the blame for his "incredibly monumental mistake."
Nyong'o found herself in the middle of another buzzworthy project when she was tapped to join the Marvel flick Black Panther as Nakia, the love interest of Chadwick Boseman's titular superhero.
The film proved a box office smash upon its release for the four-day President's Day weekend in February 2018, raking in more than $200 million domestically and over $360 worldwide. Additionally, the production was notable for shattering stereotypes about the limitations of marketing a largely black cast.
Later that summer, the actress was honored with induction into Hollywood's Walk of Fame class of 2019.
Nyong'o went on to a co-starring role in the comedy-horror Little Monsters, which premiered at Sundance in early 2019. She followed with a turn to scream-out-loud horror in Jordan Peele's Us, about a family confronted by a sinister group of doppelgängers.
For her excellent role in Black Panther, her awards and nomination include 2019 Screen Actors Guild Awards for Outstanding Performance by a Cast in a Motion Picture (Won), 2018 BET Awards for best actress (nominated), 2019 Black Reel Awards for Outstanding Supporting Actress (nominated), 2019 Critics' Choice Movie Awards for Best Acting Ensemble (Nominated), 2018 MTV Movie & TV Awards for Best On-Screen Team (nominated), 2019 Nickelodeon Kids' Choice Awards for Favorite Movie Actress (nominated), 2018 Saturn Awards for best actress (nominated), 2018 Teen Choice Awards for Choice Liplock (nominated), 2018 Teen Choice Awards for Choice Movie Ship (nominated), 2018 Seattle Film Critics Society awards for Best Ensemble (nominated), 2018 Washington D.C. Area Film Critics Associatio for Ensemble (nominated), 2019 NAACP Image Awards for Outstanding Performance by a Cast in a Motion Picture (Won).
#4. Florence Kasumba, Uganda
Florence Kasumba, born 26 October 1976, is a German female actor of Ugandan origin.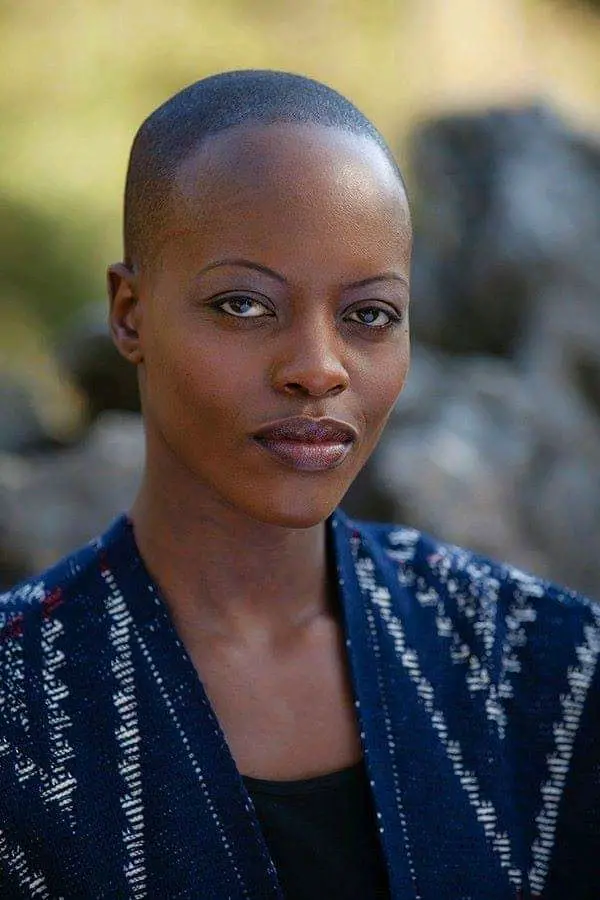 Other than acting in German and Dutch films, she is most known for playing Ayo in Captain America: Civil War , Black Panther and Avengers: Infinity War . She also played Senator Acantha in Wonder Woman , Shenzi in The Lion King , and the Wicked Witch of the East in the NBC television series Emerald City.
Florence Kasumba was in Kampala , Uganda. She spent her childhood in Essen , Germany, where she attended elementary school and high school. After watching the musical Starlight Express at the age of 12, she was inspired to become a performer. She earned her degree in acting, singing, and dancing from Fontys University of Applied Sciences in Tilburg , the Netherlands. Kasumba is fluent in German, English, and Dutch. She resides in Berlin , Germany.
While she was still studying in college, Kasumba landed her first professional film role, Silke, in the Dutch motion picture hit Ik ook van jou . After graduating from college, she performed in many musicals, such as Chicago , The Lion King , Cats, West Side Story, Evita, and Beauty and the Beast. Florence Kasumba traveled to New York City and was cast in the title role in Germany's premiere production of Elton John's international hit musical Aida. She also played Lisa in Germany's premiere cast of Mamma Mia.
Kasumba has appeared in a variety of Dutch, German and English language films and television series
Her single line interaction with Scarlett Johansson 's Black Widow in the 2016 film Captain America: Civil War has been called "scene stealing". Her role was credited as that of a security guard for Black Panther. Kasumba reprised the character, Ayo , a member of the Dora Milaje , an all-female fighting squad, in the Black Panther solo film as well as Avengers: Infinity War .
Following her first appearance in the Marvel Cinematic Universe , she played Senator Acantha in 2017's Wonder Woman and the Wicked Witch of the East in the NBC television series Emerald City. She splits her time between US and German film and TV productions.
In 2019, Kasumba landed the character of Shenzi in the computer animated remake, The Lion King (2019) directed by Jon Favreau. alongside Keegan-Michael Key , and Eric André as Kamari and Azizi.
Kasumba appeared alongside Nyong'o in Black Panther , where Kasumba played a member of the Dora Milaje.
#5. John Kani, South Africa
Bonisile John Kani, born 30 August 1943, is a South African male actor , author , director and playwright , known for portraying T'Chaka in the Marvel Cinematic Universe films Captain America: Civil War (2016) and Black Panther (2018), Rafiki in the 2019 remake of The Lion King and Colonel Ulenga in the Netflix film Murder Mystery (2019).
Kani was born in New Brighton , Eastern Cape ,South Africa. In 1975, after appearing in Athol Fugard's anti-apartheid play Sizwe Banzi Is Dead , which he also co-wrote, Kani returned to South Africa.
There, he received a phone call saying that his father wanted to see him. On his way there, he was surrounded by police who beat him and left him for dead. His left eye was lost as a result of the incident and he now wears a prosthesis.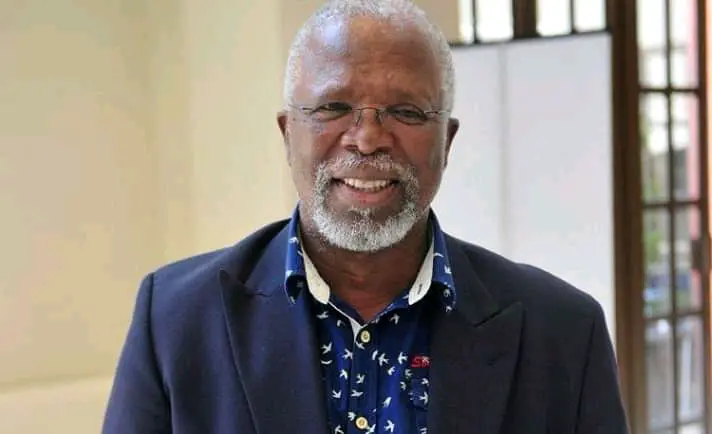 His son Atandwa is also an actor, who made his debut on U.S. television on the CW series Life Is Wild , and played a younger version of Kani's character T'Chaka in Black Panther.
Kani joined The Serpent Players (a group of actors whose first performance was in the former snake pit of the zoo, hence the name) in Port Elizabeth in 1965 and helped to create many plays that went unpublished but were performed to a resounding reception.
These were followed by the more famous Sizwe Banzi is Dead and The Island , co-written with Athol Fugard and Winston Ntshona , in the early 1970s. Kani also received an Olivier Award nomination for his role in My Children! My Africa!
Kani's work has been widely performed around the world, including New York, where he and Winston Ntshona won a Tony Award in 1975 for Sizwe Banzi Is Dead (which ran for 159 performances) and The Island .' These two plays were presented in repertory at the Edison Theatre for a total of 52 performances.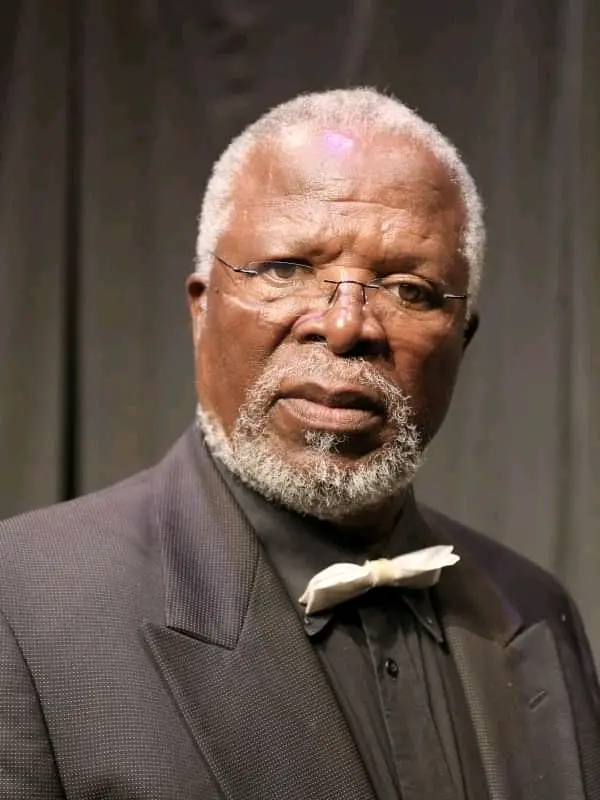 In 1987 Kani played Othello in a performance of William Shakespeare's play of the same name in South Africa, which was still under apartheid. "At least I'll be able to kiss Desdemona without leaving a smudge," he said then.
Nothing but the Truth (2002) was his debut as sole playwright and was first performed in the Market Theatre in Johannesburg.
This play takes place in post-apartheid South Africa and does not concern the conflicts between whites and blacks, but the rift between blacks who stayed in South Africa to fight apartheid, and those who left only to return when the hated regime folded. It won the 2003 Fleur du Cap Awards for the best actor and best new South African play. In the same year, he was also awarded a special Obie Award for his extraordinary contribution to theatre in the United States.
Kani is executive trustee of the John Kani Theatre Foundation, founder and director of the John Kani Theatre Laboratory and chairman of the National Arts Council of SA. He starred as T'Chaka in the Marvel Studios blockbusters Captain America: Civil War (2016) and Black Panther (2018).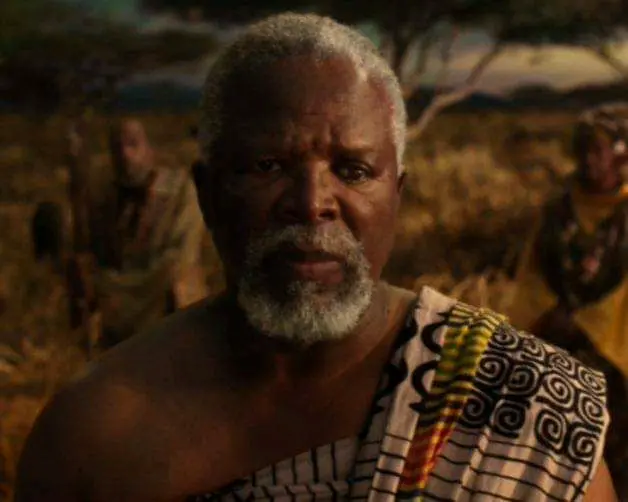 In 2019, Kani appeared in the Netflix film Murder Mystery where he played Colonel Ulenga. He then voiced Rafiki in The Lion King (the live action remake of the Disney animated film).