What Nonsense: Man flog his own Grandmother after his pastor accused her of being a witch
A man was filmed flogging her Grandmother after her pastor told him that her Grandmother is a witch.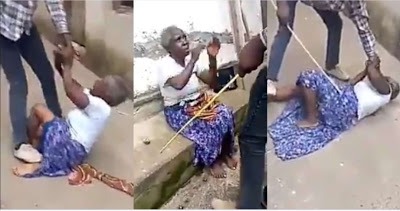 In a horrific video shared by a social media user identified as jeromeabba, the man is seen hitting her mother with a cane in public
this man has expressed his mind that his life is not going smoothly he is experiencing a total setback, after he has visited various places he has been told for so long but his love for her granny doesn't give him room to do something bad
According to jeromeabba, the man's pastor revealed to the man that she is not progressing in life because her mother is destroying every move he makes.
jeromeabba tweeted;
Would you flog your mother or grandmother because of witchcraft? Face with rolling eyes thinking face
share your thoughts on this using the comment box below
WATCH VIDEO BELOW
Would you flog your mother or grand mother because of witch craft?
Was this act appropriate?
Did she deserve it?