The Chelsea former midfielder now coach has made it clear that adding zaha to his Chelsea side is very important to him right now as the board has given a choice to make between Sancho and Zaha.
I love Jason no doubt, I watch him at home and the kid is some talent and to see him play at a bridge would be such a blessing for the side but this i s January and we have delicate choices to make. Wilfred is someone I believe can carry a team with right tutor and guardian, I see a lot of potentials in him that can help us finish strong this season, he is need of European competitions too, some thing new that can spark that breakthrough from his shell and I believe the bridge is a medium for him to do it. Zaha is a must get for us this year.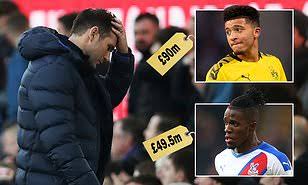 Some believe the price tag has a lot to do with this transfer as zaha is an easier one to get with the price as a point of discussion and with other potential areas also need strengthening the blues have no other option but to think Wilfred Zaha.