The match kicked off with a several-minute delay after Crystal Palace were late coming out of their dressing room (which is in the Chelsea health club behind the stadium these days), but the visitors certainly weren't lethargic in their play, continuing their good form of the early season and keeping Chelsea contained to largely ineffective possession.
That's certainly been a familiar sight for Chelsea, but on the plus side, we kept Palace's counter threat to minimum, with Zaha invisible in the scoreless first half.
Chelsea came out with a bit more purpose in the second half, and we didn't have to wait too long to collect our reward. Hudson-Odoi got a bit lucky to get the ball back from Sakho after initially losing it, but there was no doubt about Ben Chilwell's hammer of a finish. The left back arrived with perfect timing after Abraham knocked on the ball that had spun up from Azpi's shot, who had made the underlap on Hudson-Odoi.
Chelsea kept the pressure on, and after coming close from a corner some minutes prior, Zouma managed to direct a header over Guaita from a second phase cross from Chilwell.
Palace came out of their shell at that point, but Chelsea instead put the game to bed with a third. Abraham won the penalty, Jorginho converted it after failing to do so against Liverpool.
Jorginho made his a brace of goals from the spot after Havertz won another penalty soon after. Tammy tried to add some drama by grabbing the ball and trying to take the spot kick, but Jorginho pulled rank with Captain Azpi adjudicating.
It was comfortable enough at the end to give Pulisic a run-out as well.
All in all, a great day and a great second half especially.
Carefree.
Lampard with several changes from midweek, with Thiago Silva restored ahead of Tomori, Kanté returning instead of Kovačić, Havertz replacing Mount, and Abraham getting the nod over Giroud.
Stray reports of a potential Kanté thigh strain?
Clean sheet! Chelsea controlled Palace and Zaha especially, and restricted any real chance of counters.
Lampard fashion watch: tracksuit still shelved; keeping it casual with a polo shirt and slacks. Keep this one.
Next up: international break, then Southampton at home and the start of our Champions League group stage campaign.
KTBFFH
The first half ended 0-0 with Chelsea dominating most of the possession. But the second half saw the Blues make their superiority count as they hit 4 past an organised Palace side.
The goals were scored by Ben Chilwell, Kurt Zouma and Jorginho from the penalty spot twice. Tammy Abraham was was brought down in the box for Jorginho's first spot kick while for his second, it was Kai Havertz's quick feet that led the opponent to bring him down.
With Chelsea having kept their first clean sheet in the league this season and scoring four at the other end, here are the 4 things we learnt.
1. Kai Havertz is a world class when played in his normal position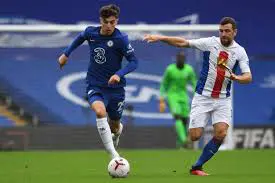 Havertz is gradually get used to the team and the league, he keeps getting better with each game but today he was brilliant. Not just the penalty he won, his touches on the ball was pure class. He was always demanding for the ball, aware of where his teammates were and made the right decisions and seems to be deceptively quick.
All this was possible because he was played in the number 10 position, a central role rather than the wing. Initially called a failure after just one game he has since gradually proved his doubters wrong and he would only get better.
2. Thiago Silva and Kurt Zouma is the way forward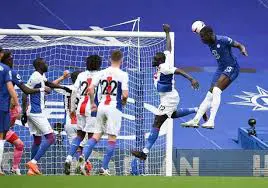 Lampard should let the partnership between Silva and Zouma to develop, there is no need changing it in the next game after their performance in this match.
This is the first time in a long while that Chelsea fans didn't have to blame the defence for once in a full 90 minutes. Kurt Zouma has always been a defender that is strong in the air and in his tackles but his positioning and decision making always lets him down. With a confident and experienced defender like Thiago Silva alongside him in this game all that disappeared, his pace was also vital in covering for Thaigo Silva as well. So they compliment each other really well.
3. Thiago Silva is a right sided centre-back not left.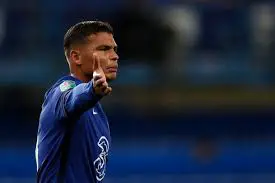 Unlike his Premier League debut where he didn't play well after he was played as the left sided centre half, today Thiago Silva played on the right which is where he has played for most of his career and the difference was clear. He looked confident on the ball, made some excellent interceptions and last ditch tackles, cleared a good number of aerial balls and a big reason why Zaha was quiet on that right side. Lampard did well to return him to a position he is used to.
4. Chelsea have a left back that can defend and attack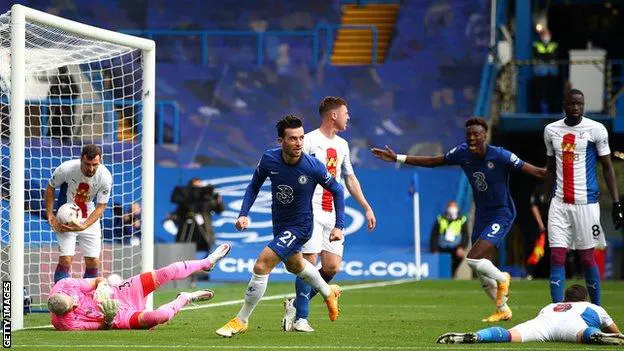 For a long time Chelsea have not had a left back that is good at both sides of the game. Alonso has no problem attacking but his lack of pace and positional sense makes him a weak defender.
Today Ben Chilwell did his defensive work whenever he was called upon, showed he has the skills to carry the ball out of the defence and of course scored and assisted a goal that proves Chelsea have found their own Robertson.
Which Chelsea player impressed you the most today?