According to the Amnews the Popular American rapper Cardi B took to twitter asking her fans to help her pick one out of these two Nigerian names Chioma B or Cadijat.
This is becoming a very serious issue as cardi b tells husband to please go with her to Nigeria she stated on twTwitt that Nigeria is a lovely country and she is ready to relocate to Nigeria following the Iran world War 3
Let's settle this ones and for all CHIOMA B Or Cadijat

— iamcardib (@iamcardib) January 6, 2020
Guys Chioma B or Cadijat?
Kulture's mother decided to file for a Nigerian citizenship based on the ongoing violence between Iran and United States of America, she said the only thing holding her back is offset not being convinced about it. She even posted a tweet asking her fans to convince him to move with her.
Convince him to move with me pic.twitter.com/faeAVMHQBe

— iamcardib (@iamcardib) January 6, 2020
Nigerians have been super excited that she choose us over other African countries.
Chioma B ❤️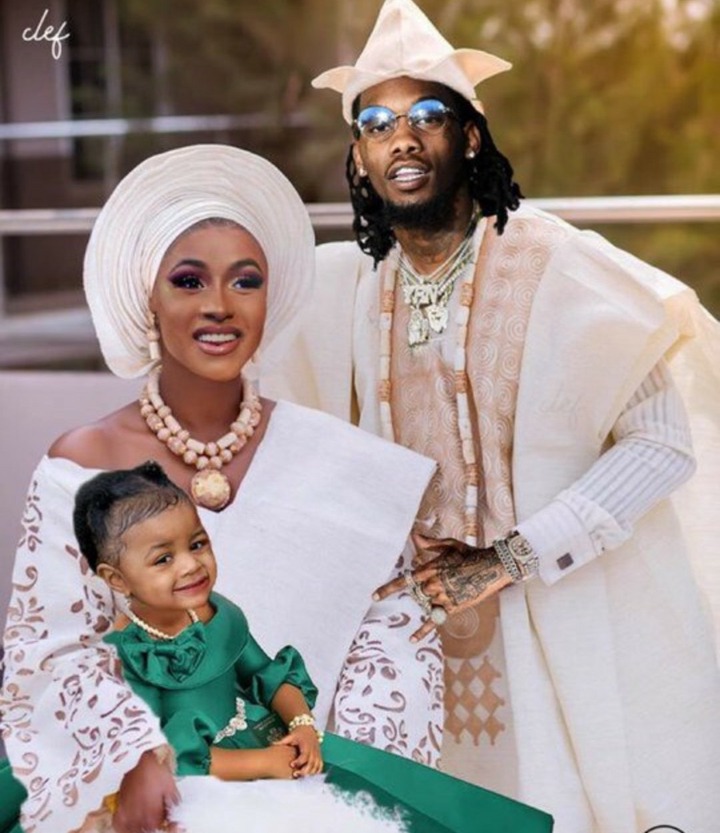 Since the singer made the announcement, Nigerians on social media have been pointing out that her choice of the country clearly shows that Nigeria is bigger than Ghana.
Joining the bandwagon, Bashir said that Nigeria vs Ghana debate is closed following the decision of the multi-award winning singer..
The rapper took to her Twitter page on Monday, January 6, 2020, where she shared a photo of her hubby, Offset dressed in the Nigerian traditional 'Agbada' (Photoshopped). She went on to caption the photo with a quote where she pleaded with fans to convince him to join her.
Trust her fans (Mostly Nigerians) as they filed up in their numbers in her comments section to try and convince Offset to join her on the journey to her proposed new home, Nigeria.