Brief History of Ikoro Ekiti
oro-Ekiti is a town in the Ijero Local Government area of Ekiti State, south west Nigeria. It is also known as Eso Obe and is one of the oldest towns in Ekiti land. It was politically subsumed under the paramountry of Ijero, the Ijero Native Authority, the Ijero District, which has now become Ijero Local Government. Historic facts have it that, the present Ikoro-Ekiti is a conglomeration of sixteen settlements dating from the eighteenth century and originally settled by Olugona who gave Oluse of Isedo the functional powers due to his old age. Today, Ikoro-Ekiti, has two main Quarters: Oke-Oja and Odokoro with many streets, is a large town noted for production of cocoa, kola nut, timber and palm fruit. In fact, the town was a major contributor of the products to the socio-economic development of the old western Nigeria. Ikoro-Ekiti has modern facilities and the people have a high degree of hospitality. Moreover, the people are very resourceful, with many of the indigene holding positions in many areas of human endeavors across the globe. The traditional head of the town is called the Olukoro of Ikoro-Ekiti, a first class king in the Ekiti State Traditional Council . The present king, His Royal Majesty Oba Olanrewaju Adebanji Adeleye (Atewogboye II) is the 15th Olukoro. He ascended the throne in 2008 after twenty four years of an interregnum in the kingship.
Ikoro Ekiti masquerade festival
This occupied an important place in social cultural development of African society, the masquerade festival in ikoro Ekiti is sold as his people, the festival is celebrated by the habitant of ancent town in February every Year, the people of ikoro Ekiti are happy to see yet another February because of the fun of this masquerade festival
Daily Focus learnt that this is a general believe that the Masquerade represent the spirit of our ancestors, hence the celebration involves the use of sacrifice the Gods of the land,
Masquerade that are prominent in ikoro Ekiti are Elefon, okotorojo, lagboku, oloyiya and others masquerade festival brings together the young the old the educated in all segiment of the people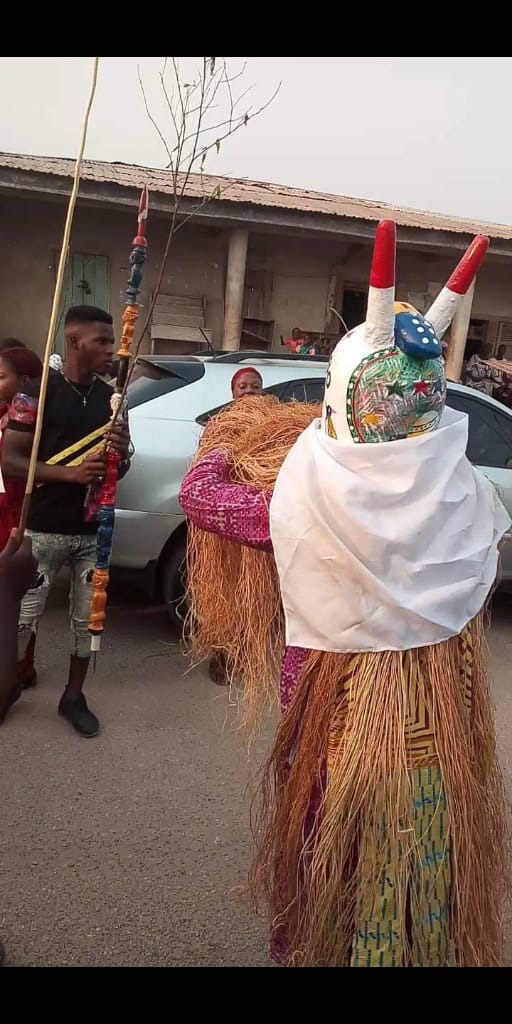 magical performance. He is a displayer of performative magic.
Sometimes, the masquerade dances and suddenly the performer
inside the costume disappear, living the mask and the costume
lying empty and flat on the ground. Then after some minutes, the
costume begins to move to music until it is fully re-inhabited by
the performer and the masquerade is back on his feet dancing.
Also, the Ikoro masquerade, while performing, intermittently
throws the axe he holds into the air and catches it with his mouth.
He executes different magical acts when performing as an icon of
the people's itinerant magical display tradition.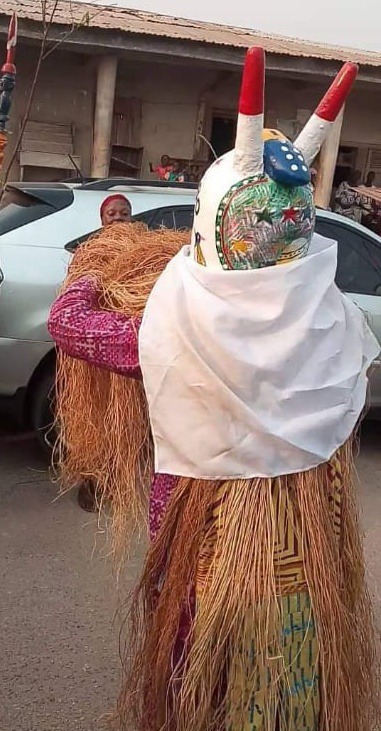 ikoro masquerade. Note that feathers used to cover
the entire inner clothing. Many of the feathers have dropped
off because of long years of usage
Aesthetics
The ikoro masquerade is a combination of feathers and cotton
materials. There is blue on the background clothing