The Delta State Police Command revealed this Wednesday while parading 182 suspects in Asaba arrested for various crimes in the state.
State Police Commissioner Hafiz Inuwa who paraded the suspects disclosed that the command busted a training camp of the Indigenous People of Biafra (IPOB) at Ibusa, Okpanam, and Illah communities of the state.
A total of 13 police AK-47 rifles with ammunition, have been recovered.
Also, a human skull suspected to be that of a victim was recovered from one of the IPOB camps and was displayed during the parade.
The Commissioner of Police listed those arrested to Ejiofor Odili aka Bishop, 45, a native of Anambra State; Sunday Okah, 37, of Ebonyi State; Ashaka Sunday, 33, from Delta; Chukwudi Nwoba, 28, Ebonyi State; Onyeka Ezinna, 29; Chima Victor Ekene, 26.
Others are Chukwudi Okpara aka Zion, 35, Imo State; Maxwell Ishiguzo aka AK 2, 36, Abia State; Christian Ndiogulu aka Tiger, 44, Ibusa, Delta and Chibuike Uyamadu, 28, Anambra State.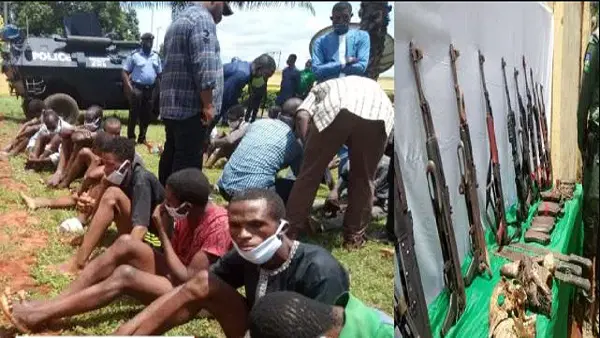 Inuwa said members of the outlawed movement were allegedly involved in the killing of policemen at various points and snatching of rifles belonging to the Nigeria Police Force.
This led to a police crackdown on the suspects and the sustained efforts in the investigation of the attacks led to some principal suspects with a "strong link to the proscribed IPOB" being arrested.
The principal suspects reportedly confessed to the crime and led police detectives to their camps.
Inuwa disclosed that on April 5, at about 8:15 pm, while acting on the confession of the arrested key principal suspect, police detectives recovered from Ugwunwosu IPOB camp, 10 AK-47 rifles, 10 magazines with 200 rounds of AK-47 ammunition.
Also, on April 24 at about 12:30 pm, one of the suspects, led police operatives to the Ibusa IPOB camp where one AK-47 rifle with its magazine and 26 rounds of 7.62 mm ammunition, was recovered from where it was buried.
According to the Police Commissioner, the said firearm was robbed from Safer Highway Patrol team, along Ogwashi-Uku-Kwale road, by Obasanjo Farms on January 23, 2020.
At the Okpanam IPOB camp, on April 29, at about 11: 40 pm, two of the suspects led officers to the recovery of two AK-47 rifles, one smoke gunner, one smoke canister, four AK-47 magazines, 212 (7.62 mm) AK-47 ammunition, one MP3, a set of Allen keys and one handbag, Inuwa said.
Adding, police are investigating.
Source: Lindaikeji