According to the Athletic, Chelsea are set to complete the signing of Ishe Samuels-Smith from Everton for a fee close to £4million.
The 17-year-old defender has agreed a three-year deal with Chelsea.
The teenager has been at Everton throughout his young career so far, rising through the ranks to represent the club at Under-18 and Under-21 level.
He has also represented England at Under-15, Under-16, and Under-17 level, and was the only Englishman named in the UEFA team of the tournament at the UEFA under-17 European Championships earlier this summer.
Former Chelsea skipper and captain after a wonderful spell at the Stamford Bridge leaves Carrington to probably end his career at the Wanda Metropolitano, Atletico Madrid. Cesar Azpilicueta joined Chelsea in the summer, August 24, 2012. He won the Europa League in the first season he joined and then won a domestic double two years later.
Azpilicueta won all the titles with Chelsea. He won the Champions League, Premier League twice, Fifa Club World Cup, Europa League twice and many more. He is definitely one of Chelsea's finest. Due to the emergence of a new administration at the club, the skipper decided to leave the Bridge to go to Spain, his country to probably end it there. This was a decision made largely by his family and out of respect for him, Chelsea let him leave for free with a year left on his contract at the Bridge.
In the early hours of today, Azpilicueta took to Twitter handle to post his farewell message to Chelsea fans and supporters across the globe.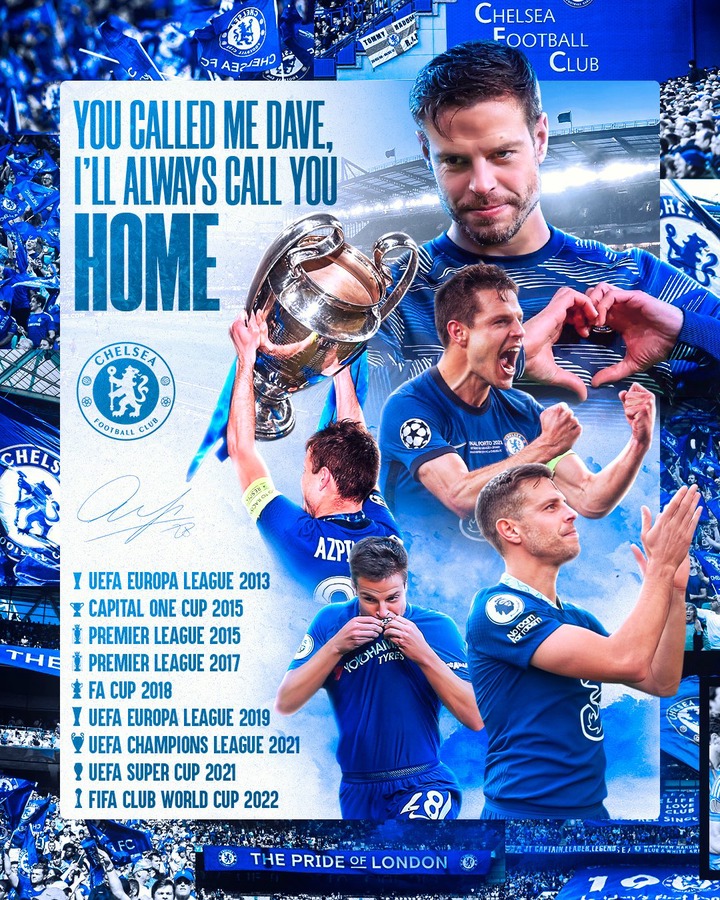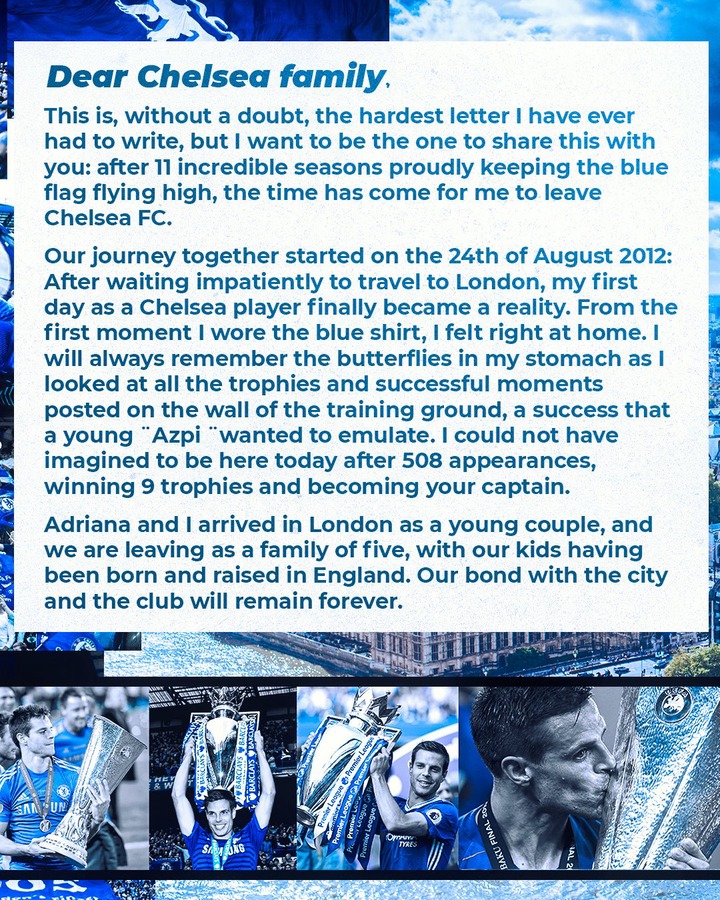 He captioned in his tweet and I quote "You called me Dave, I will always call you home". Coupled with this is him citing how his journey started in London. He also mentioned how he and his wife, Adriana arrived London as a young couple but leaving the city with a family of five. Also, he expressed his delight with the number of appearances he made for Chelsea and also becoming the captain of the team.
Azpi shares a very strong bong with Chelsea Football Club and the city of London and he will always relish the moments he spent there.
What do you have to say to Azpilicueta as he journeys on his football career?
Use the comment section to share your message.