BREAKING: Davido Sacks Lil Frosh From His Record Label (Photo)
Davido sacks street act, Lil Frosh from his record label after assaulting his girlfriend. Earlier today, news broke out that Lil Frosh has allegedly assaulted his girlfriend. A viral photo of his alleged girlfriend has hit social media and it has attracted a gazillion reactions from social media users.
According to sources, his label boss, Davido has sacked him from Davido Music Worldwide and canceled his contract with the Label.
DMW boss, Davido has reportedly sacked his record label signee Lil Frosh after he allegedly beat up his girlfriend.
Shortly after the viral photo of Lil Frosh's girlfriend hit social media, it has attracted a gazillion reactions from users.
According to sources, his label boss, Davido has sacked him from Davido Music Worldwide and canceled his contract with the Label.
Recall, Lil frosh just recently got signed into Davido Music Worldwide (DMW), after leaving his former record label, Aloma Music Worldwide (AMW), on the grounds of irreconcilable differences.
Refer to Davido's press release below
Yesterday the whole social media was agog with pictures of a girl that the signee of Davido, Lil-frosh abused.
A lot of people called for his arrest. Well, it seems that Lilfrosh has gotten himself into more trouble as Davido has released a press statement saying that he has terminated the contract of lilfrosh with DMW.
This is really sad, lilfrosh signed the contract a few days ago, then used his own hands to destroy a good future before him. Life comes at you real quick. May our temper not get the best of me.
The guy did the wrong thing with the assault no doubt. I don't even think that label is even helping his career, this guy has been dead for long since he signed that deal with the affiliate label.
But now Lil frosh did bury his dead career with his own hand. May God help us.
On the other hand, What if something better is waiting for the man, he lost an opportunity, not destroyed his future, people's future is not determined by their past, he can change by taking anger management classes and even getting signed by a bigger label.
Popular Nigerian Musician and Chief Executive Officer of Davido Music Worldwide, David Adeleke has issued a sack letter to one of his latest signed artist, Lil Frosh after he abused the Twin sister of Ovie Kenny.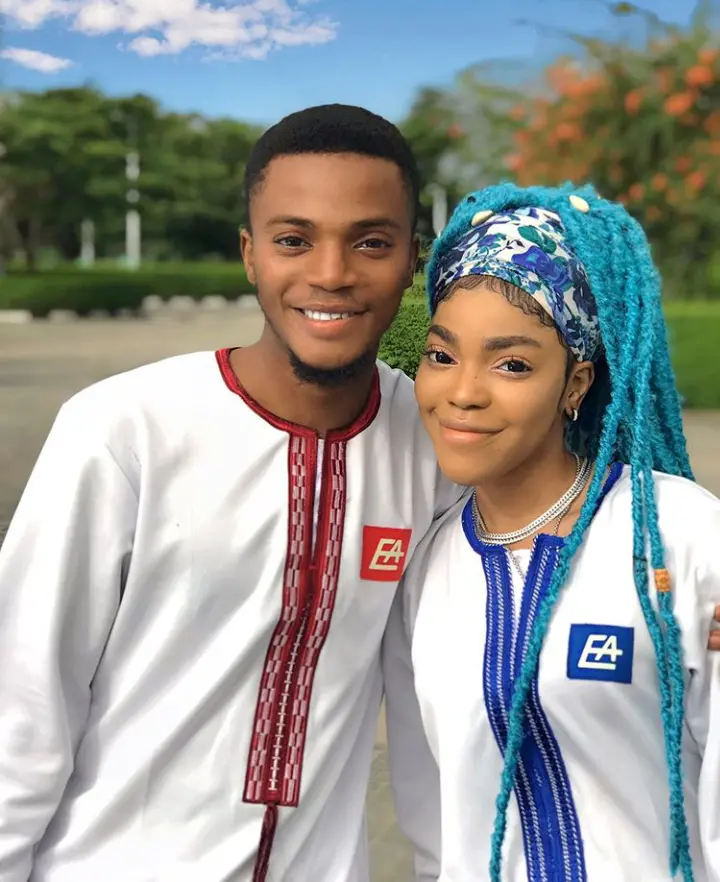 Ovie Kenny and his twin sister, Gift Camille.
Gift Camille, The Twin sister of the Nigerian Gospel artist, Ovie Kenny, was on Monday, reported to have been abused by an artist signed under the Davido's record label.
Ovie Kenny twin named, Gift Camille also called Cutegeminme, said she started dating Mr. Sanni Goriola Wasiu, Popularly known as Lil Frosh, 10 months ago and within those times, she had received abuse both Emotionally and physically.
The newest assault and abuse happened some weeks ago and unlike others, the case was reported to the media by the brother of the victim.
After to many castigation from social media users, Davido, DMW boss decided on Tuesday, 6 October, 2020 to issue a letter of dismissal to the upcoming artist over his maltreatment towards someone he claimed to love.
In the new report made available online by the Music Boss on his Instagram page, he said, "In light of recent allegations made against Mr. Sanni Goriola Wasiu a.k.a. Lil Frosh, we would like to state that as a record Label, domestic violence is not a trivial matter and we will never support or condone such behavior.
"There is no excuse for the actions of Lil Frosh and we understand that there is nothing that can be said or done to take away the insensitivity shown.
"Upon internal investigations carried out by the label, we are left with no option than to terminate the recording contract that exists between the label and Lil Frosh, effective immediately.
"We hereby immediately severe all afiliations with Mr. Sanni Goriola Wasiu a.k.a. Lil Frosh.
"Once again, we do not condone domestic violence and stand with all victims of domestic violence".
Screenshot below: