Chelsea could be on the verge of making a contract mistake with Mason Mount as English star's exit rumors continue to intensify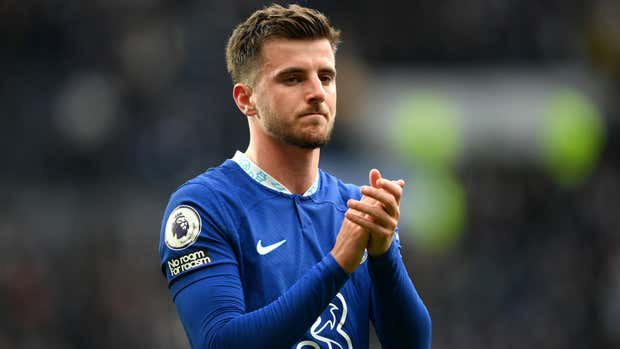 The Blues are in a limbo concerning the future of their midfielder Mason Mount and the academy product is looking 'very likely' to leave Stamford Bridge at the end of the season, unless there is a dramatic turnaround.
Chelsea have been in a poor form this season and things have stayed like that even after the appointment of Graham Porter as Chelsea manager, until recently when they recorded three consecutive wins from three games. The first against Leeds United, second against Borussia Dortmund in the champions league and lastly against Leicester City in the English Premier League.
The poor results at Chelsea has been dominating the clubs headline, but one other story that keeps popping up is the contract situation of one of their very own, Mason Mount.
According to reports since yesterday, the Chelsea star has appointed a new agent, with top transfer journalist Fabrizio Romano claiming it could be a change to help him seal a move away from Chelsea, to one of the big six clubs in England.
Amid transfer speculation linking him away from Stamford Bridge, Mount has reportedly appointed Neil Fewings as his new agent, with Premier league giants Liverpool, Manchester United and Newcastle United said to probably be the destination of the 24-year-old who may be sold to reduce Chelsea's oversized squad.
We have seen news like this in the past when a player who looks very likely to leave, finally stays back. That could be the same with Mason Mount but the likelihood of Mount staying at Chelsea next season is considered to be difficult by sources around the club.
Contract negotiations at Stamford Bridge continue to stall between Mason and the Chelsea hierarchies – a process Graham Potter has repeatedly described as "complicated." The Three Lions star is entering the final 18 months of his current deal with the club, and this can push Chelsea into allowing him move this summed, and for me that is a mistake Chelsea shouldn't make.
In my opinion, Chelsea should do everything possible to tie down the 24-year-old to a new contract. He is arguably one of their most impressive players over the seasons. This term he has been below par at times and has shown flashes of his quality on few occasions, but just like every player, Mason mount is having a difficult campaign and that would likely pass, maybe even before the end of the season.
For me, it could be profitable for Chelsea to play the waiting game with Mason Mount and try to persuade him to sign a new deal before the end of this season and in the next and should it not work, then they can allow him to leave for free in 2024 when his contract would be expiring. But to allow him leave this summer for any transfer fee whatsoever could be detrimental to them, especially if he moves to a club like Liverpool, Manchester United or Arsenal. The star could come back to hunt them next season. Imagine the energy amd quality Zinchenko and Gabriel Jesus has injected to their new side, Arsenal, as they make title push against their former side Manchester City.
More on Mount: The England international has pulled out of the England's squad for the Euro 2024 qualification matches against Italy and Ukraine due to pelvic injury he suffered weeks ago. Meanwhile, his club side Chelsea will play one final game before the international break on Saturday against Sean Dyche's Everton.