Two men were arrested alongside 14 girls said to come from Akwa Ibom, Kogi, Enugu and Imo states. The girls who claimed they were lured to the facility by friends from their respective villages are forced to pay their boss N1,000 daily for the accommodation, and they are forced to sleep with a minimum of four men daily at a fee ranging between N500 and N1,000 per client to achieve this. Asides sleeping with clients for money, it was also learnt that the men also slept with them any time they want.
Those arrested at the hotel include its owner Gbenga Olayinka, his nephew Adekunle Oshineye, 28, three adult commercial s3x workers- Happiness Daniel, Favour Nkume and Glory Ewelike- as well as nine underage girls.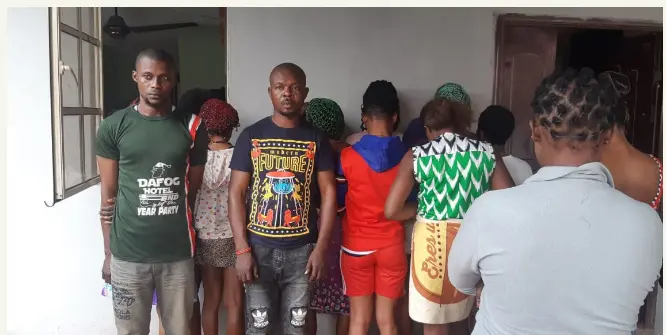 The underage girls gave their names as their names as Chisom Onyekwere, Chinonso Okoro, Stella Emmanuel, Gift Wada, Chidinma Emmanuel, Tracy Favour, Success Onu, Comfort Francis, Njoku Divine, Destiny Chibuike and Amanda Chima.
The owner of the facility however denied knowing some of the girls were underage. He also claimed that the girls rented the rooms in the hotel he has owned for two years on their own.
"I charge the girls N1,000 daily. I do not control them on their customers and I do not keep their money for them."