LIVERPOOL FANS REACT TO TIMO WERNER'S PERFORMANCE AGAINST THEM
Timo Werner had a big chance to send an even bigger message to Liverpool and their board this evening.
But unfortunately for the German attacker, he failed.
Timo Werner completed five take-ons against Liverpool, more than any other player on the pitch.

A promising display in difficult circumstances. pic.twitter.com/ZXp8Zvh6h9

— Squawka Football (@Squawka) September 20, 2020
Chelsea Fans Reacts To Timo Performance Against Liverpool
What worries me the most is that we have no creativity up front. Giroud should have played as 9 and not have havertz fight off the likes of VVD on those air balls. Also playing Mount on that left wing is utter nosense to me. Werner was isolated everytime he created space.
Werner, Kante, Zouma, Kovacic and Tomori were excellent today… We were just not lucky as a team but with time we will be witnessing a Brilliant Performance from our Team.
FANS, Let's have Patience, We will soon be a BETTER TEAM
You had one half decent ball through to
Werner
who doesn't look fit, then another where Havertz was miles offside. That was it, you sat in your own half hoping to soak up the pressure and get a 0-0. Pathetic.
Werner started for Chelsea in their visit of Liverpool today as Jurgen Klopp's side ran out 2-0 winners.
The major sub-plot to this was the fact that the Anfield club refused to spend the necessary £47.5 million on the former Leipzig striker, but the West Londoners had no such reservations.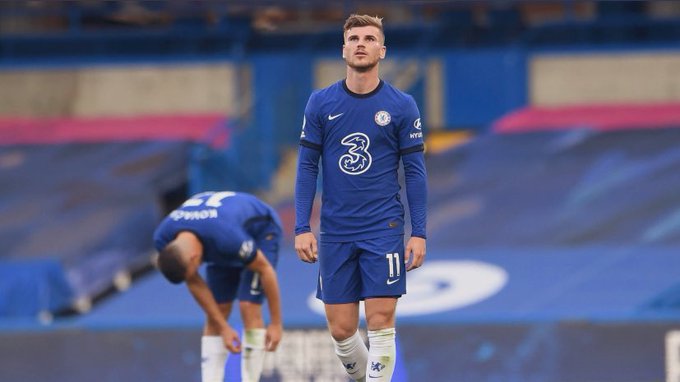 As a result, this was an opportunity to show the Premier League champions what they could have had, but it was a very difficult evening for the Germany international.
Werner struggled in a big way to make an impression as Liverpool centre-back duo Virgil van Dijk and Fabinho – who was playing out of position – ensured he barely had a sniff at goal.
The 24-year-old did win a penalty for his side on 75 minutes, only for Jorginho to miss it in a moment which seemed to sum up Werner's evening.
It was such a domineering display from the former Monaco midfielder who, whenever Klopp asks him to drop back into a centre-back role, he generally does very effectively.
If you can keep Robert Lewandowki quiet in a Champions League game, which Fabinho did as a central defender a couple of years ago, then you can certainly do the same to Werner.