Rather belatedly, and only two months after the 2020 final in Lisbon, the 66th edition of Europe's premier club competition is set to return next month.
In fact, the Champions League returns in just three weeks' time so here we have all the information you need ahead of Thursday's group stage draw…
When and where is the draw?
The 2020/21 UEFA Champions League group stage draw takes place from 17:00 CET on Thursday 1 October at the RTS studios in Geneva. It will be streamed live on UEFA.com.
Who is involved in the draw?
ESP (4): Real Madrid, Barcelona, Atlético de Madrid, Sevilla
ENG (4): Liverpool, Manchester City, Manchester United, Chelsea
ITA (4): Juventus, Internazionale Milano, Atalanta, Lazio
GER (4): Bayern, Dortmund, RB Leipzig, Borussia Mönchengladbach
FRA (3): Paris Saint-Germain, Marseille, Rennes
RUS (3): Zenit, Lokomotiv Moskva, Krasnodar*
UKR (2): Shakhtar Donetsk, Dynamo Kyiv*
POR (1): Porto
BEL (1): Club Brugge
NED (1): Ajax
AUT (1): Salzburg*
TUR (1): İstanbul Başakşehir
DEN (1): Midtjylland*
GRE (1): Olympiacos*
HUN (1): Ferencváros*
*via play-offs

Pot 1
Bayern (GER, UEFA Champions League holders)
Sevilla (ESP, UEFA Europa League holders)
Real Madrid (ESP)
Liverpool (ENG)
Juventus (ITA)
Paris (FRA)
Zenit (RUS)
Porto (POR)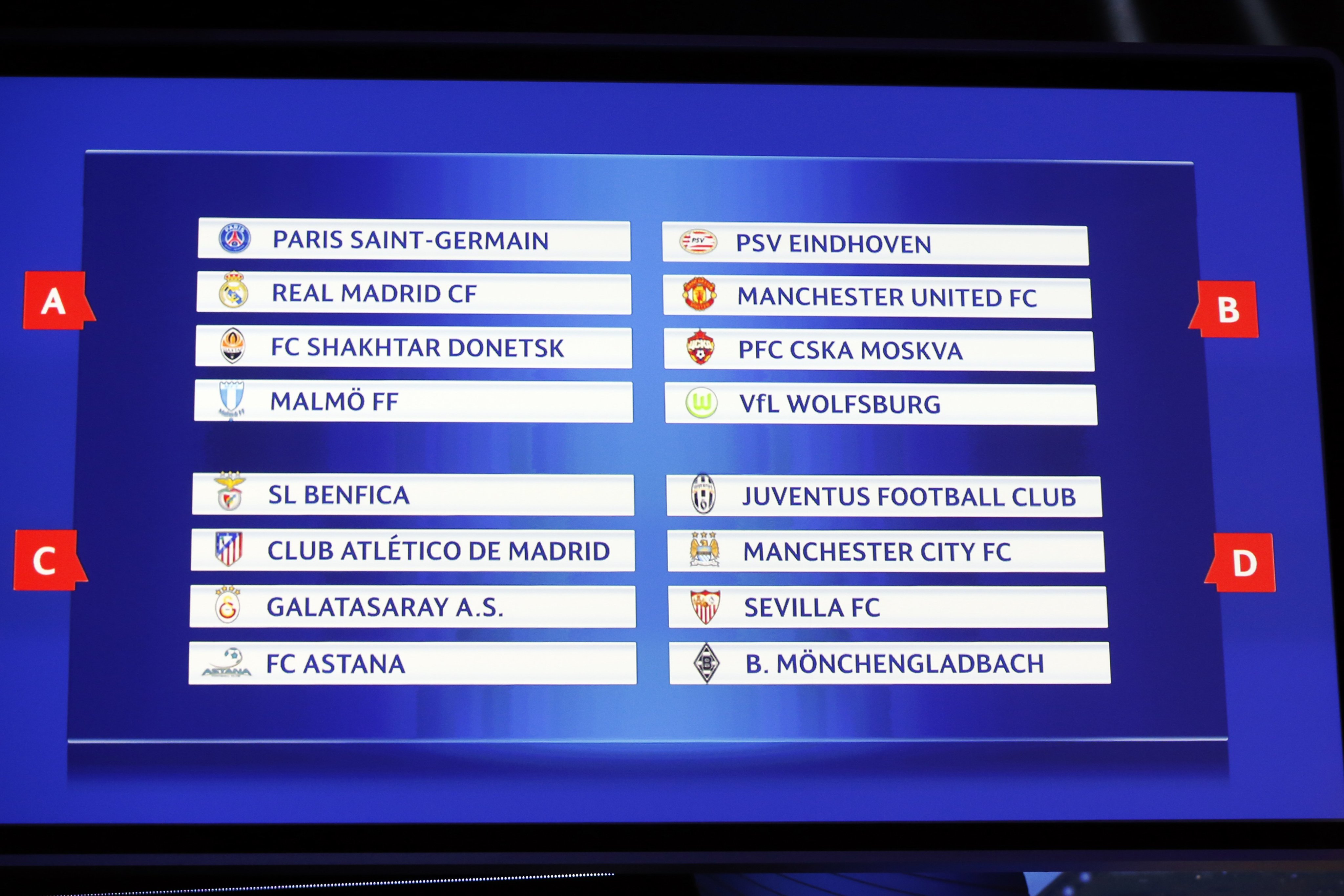 Pot 2
Barcelona (ESP) coefficient 128.000
Atlético de Madrid (ESP) 127.000
Manchester City (ENG) 116.000
Manchester United (ENG) 100.000
Shakhtar Donetsk (UKR) 85.000
Dortmund (GER) 85.000
Chelsea (ENG) 83.000
Ajax (NED) 69.500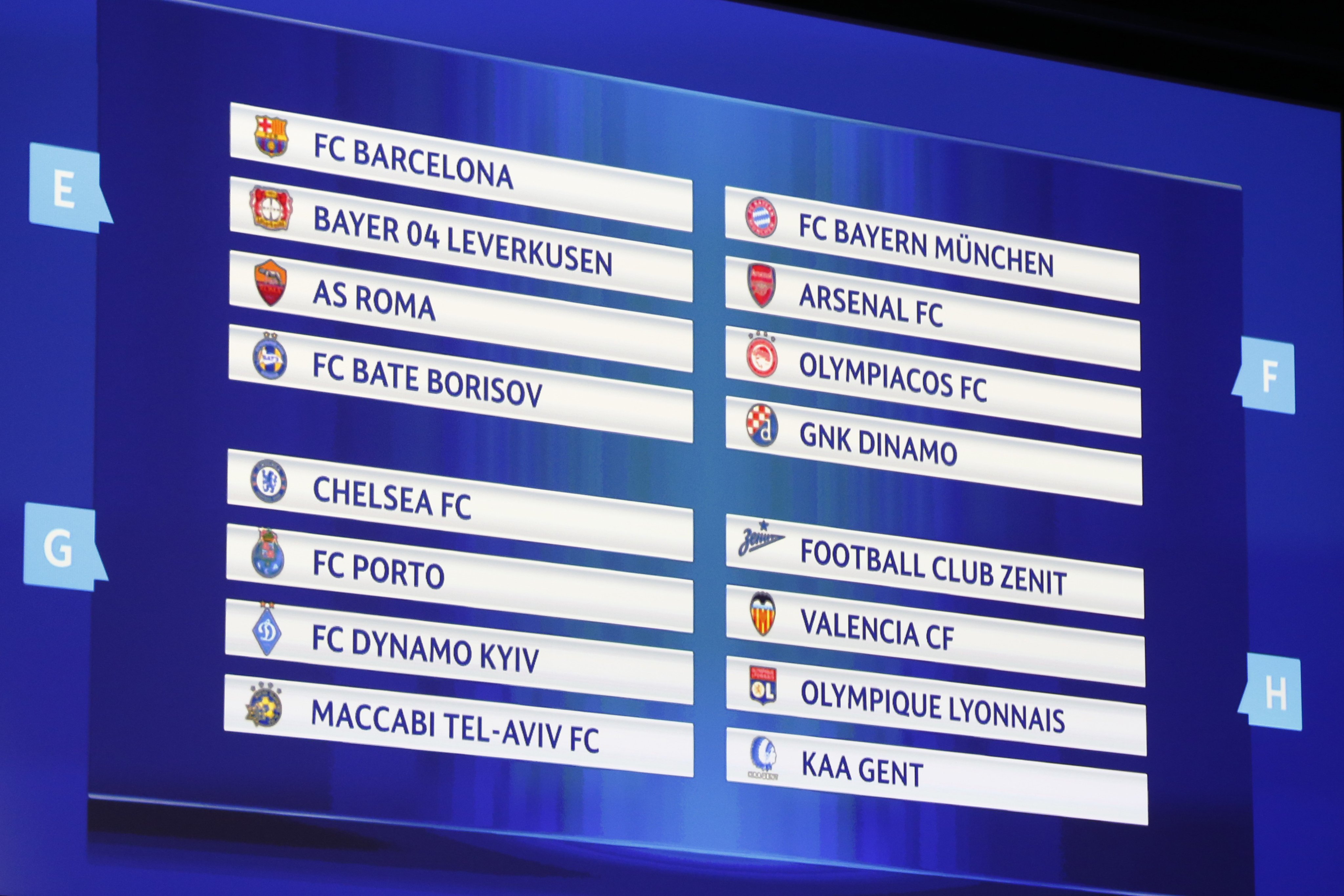 Pot 3
Dynamo Kyiv (UKR)* 55.000
Salzburg (AUT)* 53.500
RB Leipzig (GER) 49.000
Internazionale Milano (ITA) 44.000
Olympiacos (GRE)* 43.000
Lazio (ITA) 41.000
Krasnodar (RUS)* 35.500
Atalanta (ITA) 33.500
Pot 4
Lokomotiv Moskva (RUS) 33.000
Marseille (FRA) 31.000
Club Brugge (BEL) 28.500
Borussia Mönchengladbach (GER) 26.000
İstanbul Başakşehir (TUR) 21.500
Midtjylland (DEN)* 14.500
Rennes (FRA) 14.000
Ferencváros (HUN)* 9.000
*Qualified via play-offs
Club coefficients are determined either by the sum of all points won in the previous five years or by the association coefficient over the same period – whichever is higher.
How does the draw work?
The 26 teams given direct entry to the group stage were joined by the six winners of the play-off ties decided on Tuesday and Wednesday.
The teams will be split into four seeding pots. Pot 1 consists of the holders, the UEFA Europa League winners and the champions of the six highest-ranked nations who did not qualify via one of the 2019/20 titles . Pots 2 to 4 are determined by the club coefficient rankings.
No team can play a club from their own association.
In the case of associations with two representatives, clubs have been paired in order to split their matches between Tuesday and Wednesday. In the case of associations with four representatives, two pairings were made. These pairings were based on TV audiences.
Which clubs are paired?
To ensure that paired clubs from the same country play on separate days where possible, the eight groups will be distinguished by colour: Groups A to D will be red and Groups E to H will be blue. When a paired club is drawn, for example, in one of the red groups (A, B, C or D), the other paired club – once it has been drawn – will automatically be assigned to one of the four blue groups (E, F, G or H). The pairings are as follows:
A Bayern & Dortmund
B Sevilla & Atlético de Madrid
C Real Madrid & Barcelona
D Liverpool & Man. United
E Juventus & Inter
F Paris & Marseille
G Zenit & Lokomotiv
H Man. City & Chelsea
I Shakhtar & Dynamo Kyiv
J RB Leipzig & Mönchengladbach
K Lazio & Atalanta
When is the Champions League draw?
The draw for the 2020/21 Champions League group stage takes place on Thursday 1 October in Nyon, Switzerland from 4pm UK time.
When will the Champions League group stage fixtures be announced?
The dates and kick-off times for our six group stage fixtures will be released on Friday 2 October, no later than 11pm UK time.
When are the Champions League group stage rounds scheduled for?
The group stage fixtures will be played in consecutive midweeks from late October through to early December, with the exception of a two-week break for international football in November.
Matchday 1: 20/21 October
Matchday 2: 27/28 October
Matchday 3: 3/4 November
Matchday 4: 24/25 November
Matchday 5: 1/2 December
Matchday 6: 8/9 December
WHEN REECE JAMES MADE IT 4-4 AGAINST AJAX!
You've been voting on The 5th Stand and have decided to watch Reece James' fantastic goal v Ajax in the Champions League again – one of the most important goals of the season in arguably the most memorable match…
WHEN REECE JAMES MADE IT 4-4 AGAINST AJAX!
Which Champions League seeding pot are Chelsea in?
The top seeds in Pot 1 are the champions of the top six European leagues along with the holders of the Europa League and Champions League. As Bayern Munich were German and European champions last term, Zenit St Petersburg also join this group.
The rest of the teams are seeded based on their UEFA club coefficients. Chelsea are in Pot 2 so will face one of the top seeds in the group stage. The full pot picture will be clear after the play-offs are completed this week and we will have a comprehensive guide on who Frank Lampard's Blues could be pitted alongside on the morning of the draw.
How many teams are in the Champions League?
A total of 32 teams compete in the Champions League group stage, 26 qualifying via their 2019/20 league position in domestic competition and a further six coming through the play-off round.
The 32 teams are drawn into eight groups of four for the group stage and play each other both at home and away, with the top two advancing to the Round of 16. Teams cannot face another side from their national association in the group stage.
What are the round dates for the rest of the competition?
The Round of 16 is scheduled to take place in February and early March, with the quarter-finals slated for April and the semi-finals set to be held in late April and early May. The final will take place at the Ataturk Olympic Stadium in Istanbul on 29 May 2021.
LILLE 1-2 CHELSEA | UEFA CHAMPIONS LEAGUE (A)
Where can you watch the Champions League draw?
The draw will be broadcast live on BT Sport and UEFA's website from 4pm. We will also have the latest information right here on the official Chelsea website, as well as the 5th Stand app and on our social channels.
What about the UEFA Youth League?
The Champions League's Under-19 mirror competition will be slightly different in format this season owing to the continuing global pandemic and what UEFA have described as 'existing difficulties in organising the competition and the reluctance for minor players to travel in the current context.'
Instead of a group stage and parallel Domestic Champions pathway, all 64 teams will take part in a straight knockout competition from March 2021, with all rounds played as single-leg ties.