The Christians Associaton of Nigeria (CAN) has described as weak and insincere the response of President Muhammadu Buhari to Donald Trump when being confronted with the killing of Christians in Nigeria.
CAN's vice president, John Hayab, made he declaration n Tuesday, September 8, in Kaduna state, adding that Buhari and his government is full of amusing "tales by moonlight."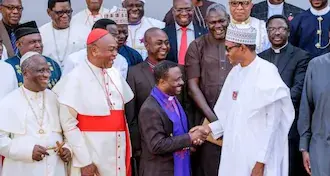 Hayab said the Buhari's response to the United States president's question was weak and a lie flying in the face of facts. He added that the crisis is not a cultural thing as claimed.
According to him, the Nigerian leader's statement was not, whatsoever, reflective of what is happening in Zamafara, Kaduna, Katsina and other parts of the country boiling with the blood of the innocent.
"Buhari and his government will never stop from amusing us with their tales by moonlight because what is happening in Zamfara, Sokoto, Katsina, Birnin Gwari, Southern Kaduna, Taraba, Plateau and others cannot be described as a cultural thing.
"President Buhari's weak story about his conversation with President Donald Trump further confirms why his government does not care about the killings in our country by calling them cultural things.
"Just this (Tuesday) evening, I received a report from the Kaduna Baptist Conference President about the number of their members that have been killed by bandits in Kaduna State from January 2020 to date to be 105 and our President will call it a cultural thing? All we can say is may God save our Nigeria," Hayab said.
Speaking on Tuesday, September 8, during the second day of the one year retreat for ministers and top government officials, Buhari said he told Trump that the crisis between the herdsmen and farmers in Nigeria is not religious but cultural